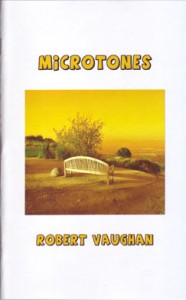 If you've ever heard Robert Vaughan read, you'll know that sound plays a critical role in creating the texture and substance of his work. Vaughan's first chapbook, Microtones—another is scheduled for publication this summer—is a collection of twenty-four moments of sound, of speakers caught up in the dissonance and consonance of memory. Together these tones form a story and a familial history—one might even say, to steal a line from Vaughan's 'Elements of K,' "an entire family, harmonizing like the Van Trapps."
And they are intimate treatments of these families' microhistories, many of which are devoted to fathers and mothers. It would be an oversimplification to say these pieces are elegiac; but it is not stretching to say mothers hold a more comfortable place in the speakers' memories than fathers do, the latter often characterized as stolid ('When the Time Comes'), cold and pragmatic ('Part of Life: Two Ways'), missing ('My Bicycle') or drunk ('Wrestling with Genetics'). It is important, at least in my opinion, to see that 'Wrestling with Genetics,' the last piece in the chapbook, finally puts father and son in the same text as adults—and finally the son wrestles not only genetics but also memory to the ground . . . and takes the keys. I like this.
Reading Microtones as one story in which the characters, while inhabiting different worlds, represent archetypal opposites of Mother/Father, Lover/Abuser, but also Consciousness and all forms of Death (disappearance, absence, escape, separation, etc.) is like listening to a ballad with a rich harmonic structure—of course all of this in miniature. When I think of the collection in this way, I keep coming back to Vaughan's image of the entire family harmonizing in the car. This is a rare, major chord in a story that strikes mostly darker tones.
In 'Legacy' we are briefly shown a photograph of a girl, a family member, and told that her death is her own fault, damaging to the family, contagious and stupid. In 'When the Time Comes' a father tells a similar story about a boy in the news. "The children should have known better" resonates here and elsewhere, sounding more like a comment on the adult than the child. Similarly, in 'My Bicycle' responsibility is shifted to the child since the father is missing. This prose poem is possibly about sexual abuse, possibly about a positive sexual encounter with a stranger. Regardless of which, the missing father is the acciaccatura for the sexual encounter—as if its mere and brief mention at the beginning sets up, and somehow explains, the story of the camper.
In terms of physical arrangement, many of these pieces are positioned so that they exist across the page in dialogue with a piece that treats a similar or at least complementary theme. A good example of this: 'The Upswing of Falling' and 'Levitation,' both about romantic relationships, the former ending, the latter in the throes of passion. I find this opposition, this balance pleasing.
Microtones (36 pages) is available from ČERVENÁ BARVAPRESS.
_____________________________________
Christopher Allen is the author of the absurdist satire Conversations with S. Teri O'Type. Allen, originally from Tennessee but now living in Germany, is the managing editor of Metazen, a daily ezine that publishes potential literature.