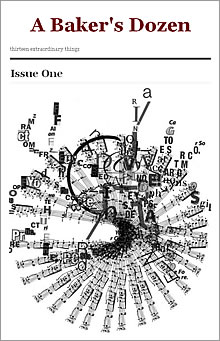 Front Page's March editon includes Linda Simoni-Wastila, Darryl Price, Neil Serven, JP Reese, Marcus Speh, and Sylvia Petter. Linda's story, "Accidental Arsonist," is in the debut issue of A Baker's Dozen, co-edited by Michelle Elvy and John Chapin-Carpenter; her essay on curbing prescription drug abuse appeared in the New York Times's Room for Debate; "Greetings From Motel 6" is forthcoming in 2013 Poet's Market; and "Breathe" was the featured debut of Metro-Fiction, part of Metro-Moms network. Darryl's "The Pocahontas Forgiveness Goes Viral" appears in River Poets Journal; "That Kind of Body" appears in the Wilderness House Literary Review; "The Pretty Business" is in Letras Caseras; "What I Find" is published in Eos:The Creative Context; "The Most Beautiful Truth," "If The World's Still Turning," and "Fun And All," are published in character i; "Young Woman At The Well" is published by Lost in Thought; "I'm Afraid You May Have" appears in Language>Place>blog Carnival; and "The Cake for God" and his e-book Safety First is published by The Camel Saloon. Neil Serven's story, "Return Policy," appears in Washington Square 29 (Winter/Spring 2012). Joani's first chapbook, Final Notes, is published by Naked Mannekin ; she has work forthcoming in kitchen and Reprint Poetry; and Joani will read at The Writer's Garret in Dallas this April. Marcus's "Happy Feet" appears in Letras Caseras; "Winter Garden" is published in A Baker's Dozen; "Selected Works Of A Hermit Crab Written On Shells, Stones, And Scales" appears in ILK Journal, and "Candy" is published in fwriction review. Sylvia's collection The Past Present will be available free as a Kindle download from Friday, 2 until Tuesday, 6 March.
Finally, if you sent me news for Front Page and it is not included this month, I apologize. My email account was recently hacked. Please resend your news to marcelleheath@ymail.com for next month's post. Thanks!
Marcelle Heath is a contributing editor for Fictionaut and assistant editor for Luna Park Review. She blogs here. Send your news for the next installment of Front Page to marcelleheath@ymail.com.