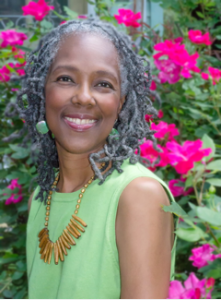 We are pleased to welcome Denise Patrick to this month's installment of Writers on Craft.  Denise Lewis Patrick was born in Natchitoches, Louisiana. She attended local schools and earned a degree in Journalism from Northwestern State University of Louisiana in 1977. That same year, she moved to New York City. She has been both a writer and editor in various areas of the publishing industry, particularly for children.
In addition to being a published author, Denise is pursuing an MFA in Creative Writing from The University of New Orleans. She's an adjunct professor of writing at Nyack College. She's also worked with budding writers in an afterschool program, and has managed middle and high school writing programs.
What do you read when you despair at the state of either your work in general or a particularly difficult manuscript in progress—any "go to" texts?
I have a great book of essays culled from a NYT series by various writers. It's simply titled Writers on Writing. There are two volumes and they include craft advice or observations by Elmore Leonard, Walter Moseley and others. Then sometimes I fall back on Dickens, Austen, or Agatha Christie to remind myself what a master really is.
If you could give just one piece of advice to emerging authors about editing or even hanging in there while you edit that has served you well, what would it be?
I'd invoke that awful/wonderful adage to "kill your darlings."
How has your perception of what you "do" with your work changed as you have continued to write?
I think more about an intended audience, in a way—not driven by whatever the trendy literature of the moment is. But I used to just write to write, to express whatever the ideas were. Now I think about the audience for something as I'm doing it. And that's a big difference for me. Some things I still write to write, but less so. For Finding Someplace my audience was really people who were not directly impacted by Katrina.
I'm gratified that there are a lot of people who were impacted who are positively responding to the story.
What do you feel is the purpose of literature?
Wow. The purpose of literature is to entertain and to teach, at the same time, I think.
As a human being, what is the best advice you have to offer?
Try to be kind. Try to listen. Be observant of people and nature. Know that you'll make mistakes, and that you can learn something about yourself from just about every one of them. Make, share, and keep close friends—and not through social media.
As a writer/creative artist, what is the best advice you have to offer?
Advice that I don't really take as much as I should—is read. Spend as much time doing that as you can when you're not writing, and read all kinds of things. I feel right now that I'm not reading enough contemporary artists' work. I do probably pay more attention to contemporary visual artists work, and I'm reading a lot of non-fiction these days so I feel like I'm not keeping up with contemporary fiction. I'm also reading a lot of contemporary poetry, and all of those are things I enjoy, and they express my creative side. I'd say also to immerse yourself in creative endeavors, too. I think my writing is influenced a great deal by the visual arts. 
I'm delighted by the work you've done with writing for the middle grade and YA levels, while I'm aware you also write many other things.  Something striking about your work, for me, is how it feels inspiring to read books with realistic yet spunky narrators, those with real world problems who struggle to encounter them with grace.   As a parent, I love when I pre-read a book these days that I'm excited to pass on to my children.  Do you get a lot of lovely messages from parents about how your books have reached their kids? 
I do, sometimes. As a parent, that's special.
What would be the best piece of advice you could give someone just starting out who would like to specifically get into either middle-grade or YA fiction publishing?
Know or learn about the not just the market, but the people in it. I have four kids and worked for a time in a middle school, so I was submerged in that experience for quite a few years. However old you are, it's different now.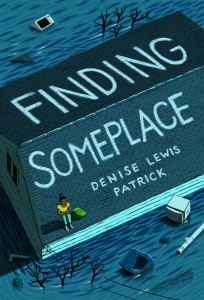 Your newest work Finding Someplace is a story about a girl named Reesie Boone who struggles to accept Hurricane Katrina's impact on her life and family.  Having spent a lot of time talking to those from New Orleans in the last couple years, I felt the palpable pain and loss in this book really rang true for  me in terms of what I'd heard from multiple people.  Does this book have a special mission to highlight the reality of a national emergency for its young readers?  The author's note at the end does feel like a compelling reality check for what happens after a disaster—continuous recovery.
I think it might have a special mission to highlight the difficulty of young people being able to cope with any kind of major disaster or family issue in their lives, because Reesie has to deal with all of that. I guess I would want it to be broader than Katrina per se, and show a kid who has resilience in dealing with big[ger] things.
Finding Someplace is a book so intelligently rendered.  I love how it combines elements of literature and music, as well as modern aspects of everyday life for people Reesie's age.  Is it important to you to put culture into texts to stir the curiosity of young readers?  Reesie's aspirations, as example, are to become a famous clothing designer.  In the book, she designs her own garments. This requires innovation, hard work, desire, and engagement.  Can I tell you how relieved I was to see a profession promoted that's believable in this media driven culture as a targeted profession for a young girl—yet isn't simply "pop star"?
It's totally important to include culture. What makes something real, other than experiencing the day–to-day culture of whoever the characters are? I really try to make things come to life in that way. Yes.
How do issue of race and race representation play into your work?  Is there a conscious filter?
Conscious filter?  Not sure what that means, but…I am controlled about how I include issues of race in as much as I think about the ages or possible ages of readers. For instance, if I'm writing something for middle graders, as opposed to adults as opposed to perhaps young adults, I am conscious of how I represent race. (What kinds of interactions would this character have? Where does this character live, and how would/does that affect social relationships?) But I live race, therefore any characters I create are going to live race in certain kinds of ways, too—no matter what their race is. This does mean, despite belief to the contrary, that each day there is some aspect of my experience that is influenced by race in a minute or large or subtle way. There could actually be a conscious filter in me that processes these things differently during any given occurrence. I think kids don't have the same (if any) filters.
How does writing for younger generations differ from the work you are doing or planning for adult markets?
In addition to the above, I guess it's in topics that I pick to discuss. When I'm writing for younger people I try to think about what's on their radar. Certain kinds of relationships are on kids' radar: friends, parents, siblings, "frenemies." With adults there are other relationships on their everyday radar. That's how I differentiate those things.
What's in the pipeline for your readers next? And what are you working on now? Give us a sneak peek.
Short stories for adults, and some things for young readers that I can't really talk about yet. I am actively working on a couple of other projects—three other middle grade projects in the pipeline, probably for 2016, 2017. I would like to work on a screenplay of one of my short stories…maybe not Finding Someplace right now. I'd like to put together a collection of poetry, and maybe finish a YA fantasy that I've been kicking around for a few years.
Writers on Craft is hosted by Heather Fowler, who cares about writing. She does a lot of it. Visit her profile on Fictionaut or see here for more: www.heatherfowler.com.