We are pleased to welcome Joani Reese to this month's installment of Writers on Craft. Joani Reese has poetry, fiction, creative nonfiction, book reviews, and writer interviews published or forthcoming in many online and print journals. Reese was a poetry editor for THIS Literary Magazine, www.thiszine.org, and Senior Poetry Editor for Connotation Press: An Online Artifact, www.connotationpress.com. Reese's poetry chapbook, Final Notes was published by Naked Mannekin Press/Fractal Edge Press in February, 2012 and her second chapbook, Dead Letters, was published by Cervena Barva Press in 2013. Reese is the Writing Center Manager at Collin College. Some of her published work can be read at Entropy: A Measure of Uncertainty, jpreesetoo.wordpress.com. Reese is currently Editor-In-Chief of MadHat Lit. Reese's first full collection, Night Chorus, was published by LitFest Press in 2015.
What do you read when you despair at the state of either your work in general or a particularly difficult manuscript in progress—any "go to" texts?
Ten years ago, I would have said Eliot, but then again, ten years ago I was fresh from grad school, and my head was filled with grad school think. Every year that passes, like a turtle, my brain pulls further into its real-world-all-around-me shell, and I lose a bit more of the woman I was intellectually back then. Grad school was a glass bubble in time for me and then I went back to the true world as it is. I loved grad school. Where else can you bathe and wallow and drink in the history of ideas, stories, and lies, both ancient and new, with other people who have the same love affair with words?  That's a long answer to a short question.
I have never despaired at the state of my work because it's not important that others affirm my writerly existence by praising me or publishing me. I enjoy when people like my work, especially other writers I admire, but validation isn't the reason I write.  Writing, for me, is like breathing.  I do it when it's necessary, without thinking about it.  It's autonomic for me.  I have been holding my breath for almost a year now, though, so it's time for me to get writing again.
I love Ted Kooser's The Poetry Home Repair Manual.  I love Yeats, will always love Yeats; I am in love with loving Yeats. For someone more current, I have recently been reading Pam Uschuk's Blood Flower.  I met Pam at a conference in Virginia last January. The woman's words sing. To read her poems and recall the cadence of her reading them aloud from that stage is magical. For her, as for me, sound and sense are equally important, and hearing her made me feel a kinship with another poet I had never felt quite that way before. I recognized her.  One of the first female poets whose work thrilled me was Joy Harjo, who was once Pam's teacher.  It was kismet that we met.
If you could give just one piece of advice to emerging authors about editing that has served you well, what would it be?
Proofread!  If you send a fabulous piece into the ether and you don't bother to proof it to death before you kick it out the door, don't expect many editors to invite you through their doors. Sloppy writing, though it may not be the truth, reflects poorly on the writer who sent it and suggests the writer doesn't care about her or his work.  Someone has to have written something pretty damned stunning to get my attention as an editor if they haven't bothered to make sure their words are all present and accounted for and that they have placed those commas where they, intended, them, to, be.
Also, I really don't care where you've been published before, so please keep the bio. and cover short, sweet, and to the point.  I read the work, and then I read the rest. I don't accept work based on a writer's CV, only on her brilliance.
How has your perception of what you "do" with your work changed as you have continued to write?
I don't send work out much anymore.  I used to send it every week, and I was thrilled no matter where my babies found new homes. If I sent a piece out once or twice and it was rejected, I would just tuck it away and begin something else.  I have a folder full of work I have sent to maybe one, maybe two, places. My dear friend, writer MaryAnne Kolton, laughed at me when I told her about this dazzling strategy of mine.
Sometimes, real life intrudes as well, and then fortune favors the too busy to care.  I was fortunate to have been introduced by the angel of my better nature, Bill Yarrow, to Jane Carman, my publisher at Lit Fest Press, in Seattle at AWP.  Jane heard me read my work and something clicked for her.  When she set up the press (a spanking new one), Jane asked me to submit a manuscript.  The funny thing was that because I am the slow, determined, constantly revising writer that I am, I almost said no. The book reflects twenty years of my writing, and I was afraid it would be my swan song.  Ha!  If you never publish a book, you always know you've one waiting in the wings in case the mood to be famous (infamous?) should strike. Because poets are the unacknowledged legislators of the world, right?  I'm glad, finally, that I sent my poems and stories to Jane.  She made me a beautiful book, from Lisa Cardenas' painting on the cover to the Garamond and Apple Chancery inside. I am a lucky woman.
What do you feel is the purpose of literature?
The purpose of literature is to make us understand how to live and then why we die. Acceptance and understanding. The boredom, and the horror, and the glory. (To steal from both Eliot and Justice).
As a human being, what is the best advice you have to offer?
Wow, Heather, that's certainly a question!  I'd prefer to answer as a cat, but I'll give it a shot as a human being. Love yourself in the right way and forgive yourself and others for their failings. Be kind whenever possible, and carry a backpack full of wit and cunning around with you, just in case kindness fails.
As a poet, what is the best advice you have to offer?
Avoid the words ghost, stars, ancient, beautiful, ashes, love, death, spirit, evening, dawn, life, and then read Eliot, Yeats, Plath, Bishop, Lowell, Harjo, Uschuk, McCallum, Lee, Lorca, Clifton, Vuong and know those words for the first time. Slow down and give your work time to breathe. What you just wrote in a fever twenty minutes ago is NOT ready for submission. Trust me on this. Pour it into the oak cask, and then later, bottle it, wait, then open it and let it breathe a bit. Your work will thank you, as will your editors and eventual readers.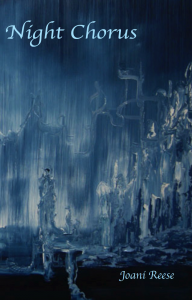 Your new book Night Chorus is your first full-length collection of poems—but you've been writing beautiful poems for decades.  How did you decide which pieces should go into this one, how to break the sections, etcetera?  How does it feel to have a life journey kind of book released to the public?
I answered a bit of this above.  These were poems and stories (which began as poems before I gave myself permission to write stories) that had all been written in the blood and the sweat of the last twenty years.  Some are personal, some a discourse on western culture or the world. Many offer a point of view, and I am unapologetic that it leans toward a liberal kind of mercy and kindness.  Few are funny, though some have wit. After I'd decided the book's title would include the word Chorus, I thought of creating specific delineations, orchestral and musical movements, which gathered a specific sensibility together in each separately titled space. When the poet Shara McCallum took me under her wing when I was in grad school, we decided to separate my thesis, Grafting Wings, into different sections.  It was her idea, and it was brilliant. I paid her a compliment by using the same strategy with my first (and most likely last) collection.
When I read your poetry, there's such a rich and elegant sound to many of the lines and there is often water imagery.  The sea.  S sounds like knock outs.  I almost feel like S moves through the whole collection as via so many memorable lines with the sounds of oceanic murmurs.  Can you speak to what water imagery does for you, whether your use of it has been organic or deliberate? 
I never noticed the water imagery as particularly intrinsic to my work, Heather. That's interesting. Maybe because water must flow or it becomes stagnant, putrid. Our lives have to move forward or they, too, become stagnant, putrid. The writing reflects my many different selves and speaks to those I both love and regret having loved, and water seems the most natural vehicle to explain what cannot otherwise be explained about my life. For me, words have to connect and flow in a way that creates a situation where function follows form. The sonics are all-important, and I can't explain how I know what will sound right, I just do, eventually.  I have one poem, "Sand Dollar," that's been anthologized almost to death and is in Night Chorus near the conclusion.  I wrote that baby for ten years before I thought it was ready to leave me. I think I am really a frustrated musician.  I can't play an instrument to save my life, but I can play words and somehow, I intuitively understand both their ability to create dissonance and assonance and the beauty and power that harmony mixed with disharmony can provide.
What's in the pipeline for your readers next? And what are you working on now? Give us a sneak peek.
I want to write a detective novel, or maybe a true romance/slasher kind of thing where the first girl to have sex dies shortly thereafter and the virgin gets the football captain and then he dumps her for a younger model, and then the dumped moves to Europe to meditate and becomes the most sought after shaman, Yogi, and philosopher/organic farmer in the world, all as an implied metaphor for the correct way to observe and tolerate the human condition.  Just kidding, though it certainly might earn me a bit more money than my poems have done so far.  After all, we're all in this crazy, creative life for the money, aren't we? I have a friend who has sent me two screenplay bibles.  He's sure I'm the next great Hollywood writer.  I adore him and maybe he's right.  Off to track down George R.R. Martin and find out what really happens in the end.  Who knows, maybe he'll make me his ghostwriter since he's too busy having fun to finish his series? The best thing in the pipeline for me is the companionship and fabulous friendship of the many small press writers, editors, and publishers I have come to know as a result of the advent of social media, and perhaps in the near future, fortune will smile, and I'll write down a word, or even two. Thank you.
Writers on Craft is hosted by Heather Fowler, who cares about writing. She does a lot of it. Visit her profile on Fictionaut or see here for more: www.heatherfowler.com.