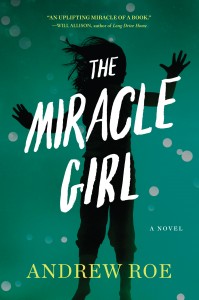 We are pleased to welcome Andrew Roe to this month's installment of Writers on Craft. Andrew Roe is the author of The Miracle Girl. His fiction has been published in Tin House, One Story, The Sun, Glimmer Train, and other publications. His nonfiction has been published in The New York Times, San Francisco Chronicle, Salon.com, and elsewhere. He lives in Oceanside, California, with his wife and three children. 
What do you read when you despair at the state of either your work in general or a particularly difficult manuscript in progress—any "go to" texts?
Despair? There's no despair.
OK, just kidding. There's plenty of despair. And I do find that turning to certain books and authors helps me get over those inevitable rough patches. My "go to" list is always evolving, but recently it's been Charles D'Ambrosio—specifically, his short story collection, The Dead Fish Museum, and his recently published essay collection, Loitering. His sentences deploy in my brain like no one else's at the moment, and his work makes me want to be a better writer.
In the past, I've also turned to big tomes like Don DeLillo's Underworld and David Foster Wallace's Infinite Jest. For whatever reason, my writerly despair can be soothed by randomly opening to a page from a large, capacious novel and then reading a short passage. When I was writing The Miracle Girl, Colum McCann's magnificent Let the Great World Spin was a source of inspiration, as I searched (and struggled) for a way to bring together multiple stories and characters and voices.
If you could give just one piece of advice to emerging authors about editing that has served you well, what would it be?
Whether it's someone else editing your work or self-editing, it's important to be open to editing and not be too precious about your writing. Of course there's that old chestnut about killing your darlings (Colette? Faulkner?). It took me a long time to learn that one, and I'm still learning it. Don't get too attached to your sentences and the sound of your voice. Always believe that your writing can be improved. Be suspicious if you ever start feeling too satisfied with yourself.
How has your perception of what you "do" with your work changed as you have continued to write?
I have a greater sense of the commitment that's involved if you're serious about being writer, about it being a lifelong pursuit. For a long time I was haunted by this quote from Don DeLillo. It goes something like this: "I didn't realize the true commitment that writing required until I was on my sixth novel." That's kind of frightening, but I'm also starting to understand what he means. There's this devotional, monkish quality to writing. And I've also come to rely on writing more than I did in the past—for better or worse. Meaning that if I'm not writing fiction for a prolonged period of time, I start to feel very uneasy and uncentered and cranky (just ask my wife). Writing seems to be more tied to my psychological well-being than it used to be. Not sure what to make of that.
What do you feel is the purpose of literature?
To be empathetic.
As a human being, what is the best advice you have to offer? 
To be empathetic.
Your new book The Miracle Girl is a beautiful story, bound to win the hearts of countless readers.  You speak to your inspirations for writing it at the One Story blog—but more connected to craft nuts and bolts, exactly how long did it take you to write? Did write in chapters or increments? What was your process?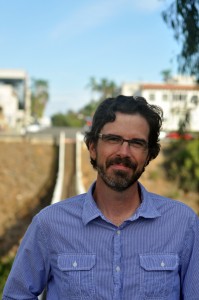 Thank you for the kind words!
It's all a bit hazy now, and it's a little hard to fully quantify, but the first sparks date back to the late '90s. That's when I had the idea and wrote the opening of the book and began compiling notes and ideas. When I moved from San Francisco to Humboldt County in 2000, I spent a year on it, accumulating more than 250 pages. I had the sense that I was only a quarter of the way done, so I abandoned it to write a shorter, "easier" novel. The Miracle Girl has a lot of characters and story lines, and looking back now, I don't think I was ready to tackle that kind of a book yet.
I'm guessing I didn't pick it up again until about 2007, when an agent (my current agent, Michelle Brower) contacted me and encouraged me to finish the book. It was slow going for several years, as I became a parent (my oldest son was born in 2005, and then my twins, a boy and a girl, were born in 2008) and worked a full-time job. At some point I stopped writing short fiction and taking on freelance work and focused only on the novel. We finally submitted it to publishers in January 2013.
So that's a really long way of saying it took 15 years or so, with plenty of gaps in there when I was writing other stuff or not writing at all.
For the most part, I wrote it straight through, in chronological order. I found it very helpful to set small goals and zero in on sections/scenes first and then chapters. If you're writing a novel, especially one with a lot of characters and stories, it's pretty easy to get overwhelmed. So it really helped to stay focused on what I was currently writing (that sentence, that paragraph, that section, etc.), which allowed me to gain momentum and also avoid freaking out (most of the time).
How many novels have you written?  Do you feel each one informs your process differently? 
Well, besides The Miracle Girl, I've written two other novels: one that was written after I graduated from college and that never (thankfully) was sent out or shared with the world, and another that was written when I stopped working on The Miracle Girl (see my answer above). I had another agent for that book, which was called Retreat and was sent out to a few publishers but never sold.
I'm not sure if each one has informed my process differently. I do know that each book is unique and has its own set of problems to solve. With novels, you're constantly relearning, finding out new things, discovering humility over and over. And that's one of the great things about the form: it's so adaptable, so vast, so challenging, so conducive to aspiration and failure.
Does living in California affect your work—which is to say, is there anything about the West Coast that draws you to use coastal terrain when you write?  I note that The Miracle Girl is set in Los Angeles.
I've lived in California all my life—both Northern (San Francisco, Arcata) and Southern (Los Angeles, Orange County, San Diego) California. The Miracle Girl is set in the fictional El Portal, which is an amalgam of the Southeastern Los Angeles suburbs where I grew up (Whittier and La Mirada).
So yes, California definitely affects my work. It's where my stories are usually set. And one of the things I want to do is show a California (particularly Southern California) that typically doesn't get depicted in books, film, and TV. It's not all La-La Land and Jeff Spicolis and anatomical enhancements. There's a complexity and diversity to California, and one of my hopes as a writer is to do justice to the reality of the place and its people, and perhaps convince readers to see beyond the stereotypical portrayals.
What's in the pipeline for your readers next? And what are you working on now? Give us a sneak peek.
I'm currently working on another novel. Since I tend to be wary/uncomfortable when it comes to talking about works in progress, I'll just say this: It begins with a woman waking up in San Francisco Bay and not knowing how she got there or what has happened the past three weeks. Also, I have a new short story coming out later this year in Glimmer Train. 
Writers on Craft is hosted by Heather Fowler, who cares about writing. She does a lot of it. Visit her profile on Fictionaut or see here for more: www.heatherfowler.com.