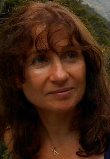 We are pleased to welcome Avital Gad-Cykman to Fictionaut's Writers on Craft.  Avital Gad-Cykman was born and raised in Israel, lives in Brazil and writes in English. Her book Life In, Life Out, published by Matter Press, is a flash collection that includes both new micro-fictions and others published in well-known magazines and anthologies such as Prism International, W.W. Norton Flash Fiction International, Salon, and The Los Angeles Review. She is the winner of Margaret Atwood Studies Magazine Prize and first placed in The Hawthorne Citation Contest. She is a four-time Pushcart prize nominee and a finalist in Iowa Fiction award for story collections. Her work has been featured in The Literary Review, Glimmer Train, McSweeney's Quarterly, Michigan Quarterly Review, CALYX Journal, Stand Magazine and elsewhere. It has also been anthologized in The Best of The First Five Years of Gigantic, Sex for America, Politically Inspired Fiction, Stumbling and Raging, Politically Inspired Fiction Anthology, You Have Time for This, and The Flash among others. 
What do you read when you despair at the state of either your work or a particularly difficult manuscript in progress—any "go to" texts?
First, thank you for inviting me to this interesting series. I've enjoyed your work for years, and am honored to be here.
In regard to the question, I don't return to the same books for stimulation. The common ground of the books I seek is their literary quality—they are so wonderful they inspire and challenge me, even when they are not linked in any way to my work. Sometimes, I turn to poetry because its transcendence can connect me to my emotions in a way that keeps things raw. I usually turn to dead poets, but am open to all.
As for prose, in the past months I've read Elena Ferrante's six books, and all this time I haven't been stuck once. Her books flow smoothly while they go deep into the characters' minds and relationships, and this constant insight into inner lives helps me feel and develop my own stories.
If you could give just one piece of advice to emerging authors about editing that has served you well, what would it be?
I'd recommend using several levels of editing, but this goes beyond "one piece of advice"… I'll focus, then, on not letting go of a story too soon, and paying special attention to the ending—it's tempting to think that a story is done when it is so in a general manner, but the ending should be at least as good as everything that precedes it. I find that it's interesting to tie loose ends, either completing a circle to the beginning or marking a process of change.
How has your perception of what you "do" with your work changed as you have continued to write?
From the time I started writing fiction regularly, I have felt certain urgency to publish my work, since it's been my most profound way of communicating with the world. In this sense, things remained the same. Over time, however, I learned that neither writing nor publishing comes easy, so I take more time for both these days. My experience taught me that a writer of literary fiction needs to be stubborn, flexible, sensitive and thick-skinned, as well as disciplined and passionate, all of which requires some acrobatics.
What do you feel is the purpose of literature?
It's hard to determine a purpose when literature probably came into existence simply because some people wanted to tell stories and others wanted to read or hear them. For this reason, the answer depends on the purpose of each human being, who has anything to do with literature. Readers expect a fulfilment of emotional, mental and/or intellectual needs, and their expectations are as varied as they are. A writer may say, like I did, that writing literature is a way to communicate with the world, while Roland Barthes, among others, has declared the death of the author, establishing a notion of reading without any regard to the writer's intention.  Either way, even if there isn't an inherent purpose, I believe in the power of literature to question existing paradigms, transport to different worlds, comfort, entertain, touch people's lives, and bridge between the familiar and the foreign.
As a human being, what is the best advice you have to offer?
I wish I could heal the world with a few good words or offer enough comfort, but when you don't believe in a pre-existing reason for life, you don't have a guiding formula, and you keep struggling to find a footing. However, there's beauty in this crazy life, and it does good to find it, grab it and remember the sensation. I find that there's magnitude in moments of elation as well as in a satisfying routine, in all sorts of love (of course) and in anything that holds the freshness of discovery.  In any case, when in doubt, humor can definitely come first.
In many stories in your new book, your work feels very informed by the jurisdictions of unspoken geographies and a sense of the political surreal.  I love the opening to the story "Peace Signs," for example, which starts, "We raise wolf-like dogs and tiger-like cats and children who are not like us. We put peace signs around our yards, but nobody believes them."   How does national/international politics inform your fiction? 
Thanks for this insight. Growing up in Israel, the limits between the personal and the public are blurred, since your life is deeply affected by existential questions. It goes from facing the fact someone close is in the army, to living through periods of high tension and war, and to considering your own priorities in the face of such a turbulent life.  The range of related emotions tends to appear in my writing in all sorts of ways, even when war is not the backdrop.  I hope to make readers stop and consider the complexity of such situations and the ways people find to survive emotionally and physically.
You have published short work in so many excellent venues.  How has the experience of putting out your debut collection been and how did you choose which stories would be included?
Having my first book published has been thrilling.  Clearly, when Matter Press accepted it for publication, I was very excited. Later, I learned a lot from the process of editing and arranging the stories in a way that suggests a trip through diverse territories. Basically, I tried choosing flashes that worked well together, illuminating a variety of moments and situations. On top, choosing the book cover required a better understanding of my own book. I was extremely happy that Vered Navon, an excellent designer and photographer, agreed to work with us. Finally, I have enjoyed many interesting, positive comments and reviews for which I am deeply grateful. I recommend having a debut book, and then the next one and the next…
What's in the pipeline for your readers next? And what are you working on now? Give us a sneak peek.
I'm working on the last part of a novel, and I feel quite good about it: I trust it's meaningful work and love entering under the narrator's skin.  She's a complex, sometimes entertaining, sometimes rather scary woman in her forties. She was adopted in her childhood and has always considered adopting, but life took other directions, until a collapse of a part of her "foundation" sends her on a journey back to her previous plan. In a general manner, the book deals with her relationships and her choices, giving a special attention to questions of boundaries and adoption. I can't write too long without being playful, so there's that too. I am rather consumed by the story and hope to pass on this feeling.
Writers on Craft is hosted by Heather Fowler, who cares about writing. She does a lot of it. Visit her profile on Fictionaut or see here for more: www.heatherfowler.com.