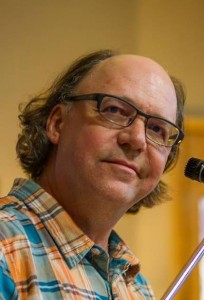 We are pleased to welcome Russell Rowland to this month's Writers on Craft. Russell was born in Bozeman, Montana, in 1957. His first novel, In Open Spaces, made the San Francisco Chronicle bestseller list and was named among the "Best of the West 2002" by the Salt Lake City Tribune. It received a starred review in Publisher's Weekly. Rowland's second novel, The Watershed Years, also garnered rave reviews and was a finalist for the High Plains Book Award for fiction. His third novel is High and Inside, the story of a former Red Sox pitcher who moves to Bozeman, Montana to try to rebuild a shattered life. High and Inside was also recently named a finalist for the High Plains Book Award.
Rowland lives in his home town of Billings, where he teaches at MSU-Billings and offers private editing consultation. He has taught at Boston University and was a writer in residence at St. Mary's College. Russell holds a BA from Pacific Lutheran University and an MA in Creative Writing from Boston University.

What do you read when you despair at the state of either your work or a particularly difficult manuscript in progress—any "go to" texts?
I'm a Faulkner guy. So if I get to that level of discouragement, he's my 'go to' guy to get inspired. He's the one writer that consistently shows me that you can break every rule in the book and still make it work, which is exactly what I admire about him. It's kind of odd, because my style has never been anything like his…it's more about the spirit of his work, I think. Plus I love the way he manages to jump around to different points of view without ever losing the reader. One of my favorite passages ever, in all of literature, comes from the Snopes trilogy, where Faulkner takes us into Benji Snopes' love for the family milk cow, and it just breaks your heart. He wrote as if he could do anything he wanted and make it work, and that inspires me.
If you could give just one piece of advice to emerging authors about editing that has served you well, what would it be?
Well, when I was first starting to get some things published, I went through a phase where I was open to advice from anyone and everyone, especially other writers. And I got caught up in trying to solve every issue that anyone pointed out. There was one novel in particular that I sent to a bunch of people, and I was getting a ton of conflicting feedback. It took me a while, but I eventually realized that if you take everything anyone says as valid criticism, you're never going to be able to satisfy everyone. But more importantly, you're probably not going to end up with the same book you started with, or the book you had in mind. You're going to lose your own vision. So I have learned to trust just a few people, people who have my best interests at heart, and people who are able to read others' work without trying to turn it into what they think it should be. People who will help you come up with the strongest version of what you're trying to accomplish.
How has your perception of what you "do" with your work changed as you have continued to write?
Ooh, that's a great question. I suppose the main thing that's changed is that I'm trying to be less cautious, and considering bigger possibilities. Early on, most of what I was exploring with my writing pertained to me and my relationship with my family and with Montana. And of course those are still huge issues, and themes that come up over and over again. But I think I've become way more aware of how important it is to think about the bigger picture. For the book I'm working on now, my first non-fiction book, I'm traveling to every county in Montana and doing research about its history, but also talking to people about what's going on now. And it became very clear early in the process that this book has nothing to do with me. I'm just serving as a recorder…I'm telling a much bigger story here, about other people, from years before I was around, and from places far from anything I've ever experienced. So it's forcing me to get out of the way and let their stories take the limelight. It's been an incredibly enlightening experience so far. And also freeing, because I don't have to think about myself all the time, which is too much work. I have no idea how it will affect my fiction, but I'm kind of eager to see.
What do you feel is the purpose of literature?
Oh, besides saving the world, you mean? Heh. Well, I'm not sure I can say anything very original about that. I suppose it's the basic idea of holding up a mirror to people who are interested in learning more about themselves. I know when I read something that blows me away, a lot of what gets to me about it is that someone has expressed something that I feel deeply about in a way that I never thought about before, or in a way that I can't imagine expressing myself. It gives meaning to things because it takes away the isolation of feeling them yourself and thinking that you're alone with the human experience. We are never alone if we have books that give us that connection to humanity, especially segments of humanity that we may never come in contact with in person.
As a human being, what is the best advice you have to offer?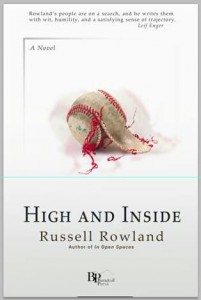 Wow, okay. I've never been asked THAT one. I suppose the thing that's been hardest for me to get through my thick skull is that approval from others is highly overrated. If you have a handful of close friends, you have enough to accomplish anything and survive anything. I've been incredibly fortunate to have that kind of core group of devoted friends that I've had for decades. So the periods where I'm not able to get my next novel published, or the one that just came out is doing shit, or what the fuck ever is going on don't have nearly the impact they would if that kind of success was what I was relying on to keep me GOING as a person. I will never be in a place where success is that meaningful to me because I have amazing friends.
Setting is an important aspect in your books.  In your "Tips for Writing a Novel Interview," you mention about the genesis of some earlier work, "Place was a huge factor in my first two novels, because they were based on my own family history. My mother's ancestors were homesteaders in Eastern Montana, among the first wave of cattle ranchers in the area." You also mention using places that were formative to you as a person.  In your latter or more recent work, can you speak to whether or not place or personal history still hold as significant a role in  your process and selection of plots—do you think place will continue to impact what enters your work as a motif?  Why or why not? 
Another great question. And the simple answer is yes. It will always be important. Because Montana has had such a powerful impact on me as a person. I lived in twelve different states after I graduated from high school, and I always knew I'd come back to Montana someday because it is so much a part of who I am. And I think living all over the country gave me an even greater appreciation both for what Montana has to offer and for what it means to me. My last novel is more about how an outsider experiences Montana, so I've tried to explore what this place means from different angles. The novel I just recently finished is one about what it's like to be different in the West, so that's another angle. In fact, it's called The Difference Between Us. As far as why, I guess it goes back to what I said earlier about trying to understand myself and my family's past. I don't know what it is, but there's something about Montana…I don't think it's a coincidence that so many great writers are from this state.
What's recently released or in the pipeline for your readers? Give us a sneak peek.
The Difference Between Us is about a murder that takes place in a small ranching community. Tom Butcher, the guy who gets killed, is a very popular and successful rancher who has never married and has always had a reputation as a ladies' man. So there were many people who had reason to kill him. But there's a new family that just moved into the area, and the father of that family had a little bit of a disagreement with Tom the day before the murder. So the community's suspicions quickly fall on the new guy. I'm still looking for a publisher for this book, and in fact I'm looking for an agent because my last one and I went our separate ways.
But I do have a publisher for the book about the counties of Montana. That book, Fifty-Six Counties: An American Journey, is scheduled to come out in the fall of 2015 with Bangtail Press, who published my last novel. Allen Jones is the publisher there and he's doing some amazing work for a publisher that's pretty new to the game. So I'm excited to be working with him again. Thank you for interviewing me, Heather.
Writers on Craft is hosted by Heather Fowler, who cares about writing. She does a lot of it. Visit her profile on Fictionaut or see here for more: www.heatherfowlerwrites.com.