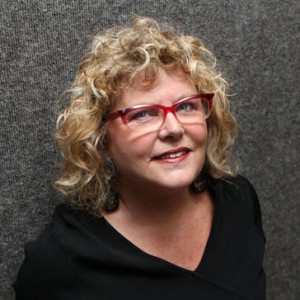 We are pleased to welcome Bonnie ZoBell to this month's Writers on Craft feature.  Bonnie's new linked collection from Press 53, What Happened Here: a novella and stories, was released on May 3, 2014. Her fiction chapbook The Whack-Job Girls was published in March 2013. She has received a National Endowment for the Arts fellowship in fiction, the Capricorn Novel Award, and a PEN Syndicated Fiction Award.  She has held resident fellowships at MacDowell, Yaddo, VCCA, and Dorland, received an MFA from Columbia University on fellowship, and currently teaches at San Diego Mesa College. Visit her at www.bonniezobell.com.
What do you read when you despair at the state of either your work or modern literature—any "go to" texts?
I'm not someone who despairs over the state of modern literature because I think there's a lot of good stuff out there. Just recently I've read and loved Jen Michalski's The Tide King, Roy Kesey's Pacazo, Pamela Eren's The Virgins, Cliff Garstang's What the Zhang Boys Know, Donna Tartt's The Goldfinch—I could go on. Why waste my time reading a bad contemporary book where there are so many good ones? Throw it against the wall. Pick up the next one.
When I'm feeling in a state of despair about my own work, reading something exceptional completely inspires me. I won't say I'm never jealous, but the awe over what's possible with language outweighs the despair—works by Flannery O'Connor, Toni Morrison, Gina Frangello, Raymond Carver, William Trevor or Gabriel Garcia Marquez help lift me out of a funk as I realize all the possibilities out there.
How has your perception of what you "do" with your work changed as you have continued to write?
I feel increasing free to be who I am as a writer instead of trying to be like other writers or caring how people think I should write. If I want to use a well-placed adverb or adjective, I do. If I don't want a transition between thoughts, I don't use one. Rules are meant to be learned and then tossed aside so that instead a story can be told the best way possible without adherence to rigid current trends. I don't feel as overwhelmed as I used to by the problems that invariably come up because the older I get and the more years I do it, I accept there are always going to be problems in writing. The more creatively I can solve them, the more inspired the story.
As a human being, what is the best advice you have to offer?
Get a dog. If you don't have one, you're missing out. You've probably heard how loyal they are. If you're good to them, they're good to you. They will lie at your feet staring adoringly at you while you write, even if what you write isn't very good. Then, when you feel like committing suicide because of what a waste of time your day at the computer has been and you throw yourself on your bed, they will lick your ankles and your eyes. Eventually, one of them will urinate on the rug or grab the beginning sheet of a roll of toilet paper and run throughout the house, and you will get so angry, you'll forget about everything else. It's much healthier to be angry than depressed.
You've just embarked on a book tour for What Happened Here; can you relate your experience of being an author on a book tour? What are the best and the worst elements of traveling to promote a book?
I've enjoyed being on tour. It's a break from regular life, and I planned it specifically so that I would get to see a lot of old friends and relatives I haven't seen in a while. Tonight my niece Izzy came to a reading in Raleigh, North Carolina, because she's going to Duke. I also saw a great friend from when I was an undergraduate who's living nearby in Durham. And I saw new friends who I only knew from the internet. I'm very ready to go home on Sunday. The hardest part of the trip is figuring out how many books to bring, trying to close your suitcase with so many books in it, and being strategic enough that that the airline doesn't make you unpack your suitcase and put heavier things in your carry on.
What's recently released or in the pipeline for your readers? Give us a sneak peek.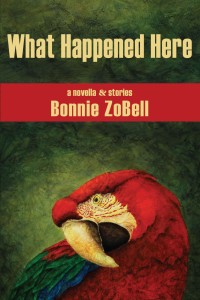 What Happened Here just came out last month, so mostly I've been doing what I can to interest people in reading it. You don't want all that alone time at the computer to be for naught. I am salivating, though, to get back to a novel this summer that I wrote some years ago. I stopped working on it after a million twenty-two rewrites in the face of what seemed like insurmountable problems in it. Two things make me think I can fix this book I'm in love with:  1. A lot of time has gone by and I think I'm a better writer now and I'm not so tired of it. 2. I've come up with what I think is a solution to the main problem.
A short excerpt:
We hiked across a meadow until a hundred yards ahead at what seemed like exactly the  same time all three of us suddenly noticed that something was different up there in the cliffs that day.  Maybe it was the raking sound that made our heads turn toward the adobe house that had been there forever. There'd always been a rumor the place buried on the mesa was made of tin cans. Dead pines and dried buckwheat, sage and lemonade­berry had always hidden it but had now been dragged to the side, raked well away, so that the structure stood bare to the ele­ments. For the first time, we could see that the old structure still had four walls and a roof.

Fascinated, we pointed out to each other an old sky-blue Mercury station wagon parked a short distance away from the house, the rear tailgate open and the back filled with suitcases, boxes and other belongings as if someone actually thought he could live there. How could someone own the bluffs?

Two grownups came around from the back.  The man and the woman set their rakes down on a nearby boulder and lighted the dead brush on fire.  Smoke and flames shot from the heights of the sandstone mesa—a fire the people seemed to be containing.

That was when we spotted the incredibly strange girl up in those hills, a small figure with white hair—the only sign of life now that the adults had wandered off.

The girl seemed far more peculiar than her parents, who were, after all, doing a job up there. This strange girl sighted us right off, though her parents had never even noticed our presence.  She stared at us as if there were no fire flickering up into the skies right behind her.  Heat and smoke seemed to not even affect her, though soot and the strong scent of burning sage had already made its way to my nose. Her skin should have been too hot for her to stand still.  Instead of reacting to all that burning, she gazed at us as if we were the oddities.
Writers on Craft is hosted by Heather Fowler, who cares about writing. She does a lot of it. Visit her profile on Fictionaut or see here for more: www.heatherfowlerwrites.com.