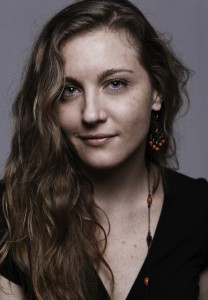 We are pleased to welcome author, journalist, and activist Ming Lauren Holden to Writers on Craft this month.  Ming Lauren Holden grew up on a zebra ranch in Santa Barbara county and has done development work in ten countries on four continents over the past twelve years. She founded the Survival Girls, a self-sustaining theater group for Congolese refugee girls in a Nairobi slum, in 2011. Her nonfiction book about the experience was published in November 2013 by Wolfram Productions.
Ming spent her year as a Henry Luce Scholar in Mongolia, serving the Mongolian Writers Union as its first-ever international relations advisor and advocating for a Mongolia PEN Center.  She most recently won Chattahochee Review's Lamar York Nonfiction Prize, Glimmer Train's Family Matters Story Contest, and USAID's Frontiers in Development essay competition. Her poetry, fiction, nonfiction, journalism, photography, and literary translations also appear in Arts & Letters, Cerise Press, Hayden's Ferry Review, Passages North, Poets & Artists, The Poker, The Santa Ynez Valley Journal, The Huffington Post, and others.  She graduated from Brown University with Honors in Literary Arts and went on to earn her M.F.A. in Creative Writing from Indiana University, where she was the first M.F.A. student to be named the Herman Wells Graduate Fellow.
What do you read when you despair at the state of either your work or modern news or literature-any "go to" texts?
I go to contemporary poetry, actually, to get a break from both the form and content of my own nonfiction and those of the media superstructure.  Sharon Olds is a favorite, as are Ross Gay, Forrest Gander, Steve Scafidi, Charles Wright, Jenny Factor–and the work of experimental fictionauts like Noy Holland, Brian Evenson, and Thalia Field.  Anything that busts through the usual and hits me in the gut with that rupture usually wakes me up from whatever trance my own work or the "master narrative" has put me in.
If you could give just one piece of advice to emerging authors about editing that has served you well, what would it be?
Trust your own rhythm and voice.  You can edit something until you lose hope or faith in what it could be or what you thought it was.  Don't let it get to that point—where the heart of it is on the cutting room floor.  Editing can be a way for the gremlin in your ear to start criticizing your work so that, after enough rounds of editing, you cut things that are really some of your most unique gifts.  Everyone edits their stuff a ton—by no means am I saying don't edit—but remember whatever bell inside you that rang when you were inspired to write this thing you're writing, and don't get so far away that you can't hear it.
How has your perception of what you "do" with your work changed as you have continued to write?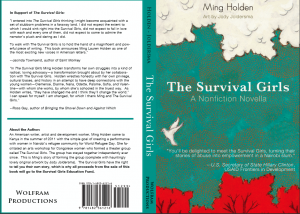 It has, happily, focused outward from my own navel a tiny amount from when I started writing.  I started to wonder what literature does for people, and whom it serves.  I started trying to tell stories that helped to illuminate the plight of millions of voiceless people–an inherently problematic endeavor, but one worth trying and failing at.  It exists at the juncture of literary art and activism, which is an important place.  Writing used to be a way to describe my life as I felt it from the inside, and now it's something I think of additionally as a connective tissue between myself and the people I write about, and between those people and my readers.
What do you feel is the purpose of literature?
On an individual level, I think it is to endow freedom and connection.  It helps people feel less alone.  Everyone, I think, needs to be heard telling their story.  I think everyone needs to see themselves in the art they experience, to know they're not the only one to have looked/felt this way.
As a human being, what is the best advice you have to offer?
I can only quote Kurt Vonnegut: There's only one rule that I know of, babies-"God damn it, you've got to be kind."
(I would add: to both others and yourself.)
Your work has been so deeply influenced by your exposure to other cultures.  Can you speak to that for our readers?  How do you feel being a World Citizen has impacted the projects you've taken on or would take on?
I think my incredibly good fortune in terms of working in other countries is the chance it has given me to really look at what stays the same across cultures—the wonderful and the terrible—because that's what makes us human.  Classic literature is classic because it's timeless; because it asks or answers questions about humanity and existence that stay true through the ages.  Kindness, cruelty, love, humor – it's all there, in every human corner.  I got to see that, in many countries, at a relatively young age.  The questions asked and answered by literature and the writing of it were illustrated deeply by what I saw and the people I worked with.  The Survival Girls (www.thesurvivalgirls.com), who are Congolese women creating original pieces of theater about the injustices they have suffered, taught me that storytelling truly does save lives; it really does affect trauma recovery for the better.  When I saw how central telling one's story is to healing from certain things, I began to be interested in the work of literature as that of witness, and of testimony.  I looked for ways to honor that role that literature plays in grief and healing and trauma, in shedding the light on situations so that those situations begin to change. Seeing so much of the world and working with people from all over taught me the opportunities to care for others that comes along with being a human in community with other humans, and the projects I take on engage with literature's role in that.
What's recently released or in the pipeline for your readers? Give us a sneak peek.
The Daily Beast put up an extract from my book about that theater group, which I founded in Nairobi two years back.  The book is called The Survival Girls, which was released last month. All proceeds from sales of the book go to tuition for the Survival Girls' university education.
Writers on Craft is hosted by Heather Fowler, who cares about writing. She does a lot of it. Visit her profile on Fictionaut or see here for more: www.heatherfowlerwrites.com.