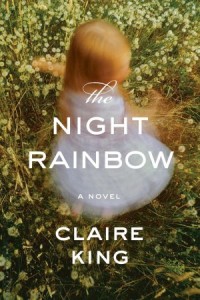 There are times when we think we must change life's rules to make sense of death, to restore order and to replace what we've lost. Claire King's The Night Rainbow (Bloomsbury), narrated by the almost-six-year-old Pea, is like a little girl's tea party where the guests are all guardian angels.
And she needs them. Her Maman (mother)—nine months pregnant—languishes in her bed, leaving Pea to prepare her own meals, to make her own friends and most of all to cope with her own loneliness. When the mother occasionally emerges from her bedroom, she's overwhelmed, morose and listless. Her troubles, though, explain her way of dealing with her pain well enough. She has just lost her partner in a tractor accident and a baby in childbirth; and to make matters worse, she might lose her home as well.
As a narrative device, the potential of the new baby to replace, in Pea's words, the one that wasn't good enough, pulls the story forward, toward what the reader hopes will be a happy end. We hope the mother will do what's right for her family. We hope these characters will all get through their grief. We hope they'll begin to talk to one another in a civil manner—following the example of Margot, Pea's new friend.
Pea and Margot have a challenge. They will go through all the things that might make Maman happy again until they find the perfect one. It's Margot's idea. Of the two, Margot is the rational one. Though a year younger than Pea, she is a precocious and stabilizing presence in the narrator's life. She's the age Pea might have been when the rules started changing, when Pea's baby sister didn't come home with her mother from the hospital and when the hugs stopped coming from the father figure in her life. Margot fills these voids with intelligence, endearing politeness and childlike logic. She accompanies Pea on their trips to the Windy Hill and the Low Meadow, where they meet Claude, a physically and aromatically ugly man who brings them treats and creates the girls' nest for them. In the words of one character, this situation seems unnatural—and it does seem a precarious one.   
And I think we are encouraged in The Night Rainbow to wonder what is natural and what isn't. Pea and Margot's natural surroundings—the flowers, the trees, the birds, and the insects—stand in stark contrast to the untimely, unnatural deaths that hang over Maman and their new friend Claude. Pea describes her world to us in a manner that suggests a former, happy—natural?—life with her parents, where they went on long walks and learned the names of things. Pea's life now is a waiting game she doesn't really know how to play, and her mother's not helping her to learn the rules.
While I'm tempted to see this story as one primarily meant for mothers and daughters, I cried—and to be clear, I am a man—at the moment one character breaks the rules and does what he knows to be right despite how it might look. And, yes, I'm being purposefully vague. There are quite a few surprises in this story. I find myself tiptoeing around spoilers, as if they are mossy stepping stones across a brook, as if I might slip and ruin everything—so I'll stop here to let you join Pea and her tea party yourself.
The Night Rainbow (Claire King, Bloomsbury) is available in bookshops and on the web.
_________________________________________________________
Christopher Allen is the managing editor at Metazen and the author of the absurdist satire Conversations with S. Teri O'Type, the story of a man struggling with expectations.