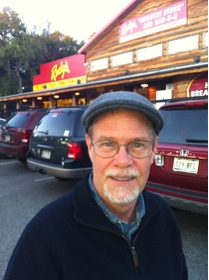 When asked to serve as Editor's Eye for a second time. I felt as flattered and unworthy as the first time I was asked. In the over three years I've been posting and commenting on Fictionaut I've found something to admire in nearly every piece that comes up in the Recent Stories. I remain in awe of the overall talent, convinced I'm the only writer here without a MFA or other pedigree signifying literary expertise.
It doesn't take long to figure out that the stories and poems garnering the most reads and faves tend to be written by authors who post frequently, offer their best work, and comment on others' work. Here are five pieces I thought worthy of more attention than received, most likely because they competed with quality pieces submitted by more prolific and ubiquitous authors. Against such competition these pieces eventually, and predictably, slipped off the radar.
MoonEarth Collision: A Disaster Story, by Curtis Pierce
Only now and then does one come upon a fictional character as refreshingly unique as Curtis Pierce's Vice President Jamison. Especially effective is the juxtaposition of Jamison against the backdrop of an impending disaster, which might have come across as clichéd but for the author's deft hand and a final turn of events that opens up a fresh universe of possibility.
Kismet, by Dulce Maria Menendez
Didi Menendez's piece drew me in immediately with its confident authorial voice. The playful references to historical characters and their art held my attention. The close completed the story arc with an insightful revelation. The title adds a delightful wink and smile.
Longer work, especially by writers who post infrequently, tend to get overlooked on Fictionaut— not a judgment, merely an observation. Ryan Day's 3,600 word short story is notable for its elegant language, effective use of "place" to anchor and enrich the narrative, multi-layered characters, and a simple but effective plot. Boy meets girl on an exotic island, difficulties ensue, and characters experience change through resolution of the difficulties. Sort of.
Lorna Garano's piece about a dying woman is made exceptional by its poetic rendering of detail and thorough lack of sentimentality. The final line is spot-on, illuminating entire lives in a single sentence. I guess that's why we call it flash.
As Luck Would Have It, by Karen Karlitz
Karen Karlitz's piece about marriage, adultery, and unanticipated consequences is a remarkably well-crafted story. We all know couples like Harry and Joy—the philandering husband and long suffering wife, right? We all know the one about the wife who becomes deathly ill, and the other woman who finally gets her chance, right? We know how these things turn out, right? This, of course, is craft at work. Luring us in with familiarity, keeping us engaged with easy pacing and details that feel like real life, and then closing the trap, playing the author's ace in the hole, so that the ending is both unexpected and inevitable.
_________________
Gary V. Powell's stories and flash fiction have been widely-published in both print and online literary magazines and anthologies including most recently the Thomas Wolfe Review, Fiction Southeast, SmokeLong Quarterly, and Best New Writing 2015. In addition to winning the 2014 Gover Prize for short-short fiction (Eric Hoffer Foundation), his work has placed in several other national contests including The Press 53 Prize (2012), Glimmer Train Short-Short Contest  (2013), and the Thomas Wolfe Fiction Prize (2014). His first novel, Lucky Bastard, is available through Main Street Rag Press. A collection of previously published stories, Beyond Redemption, is available at http://www.authorgaryvpowell.com/beyond-redemption/.