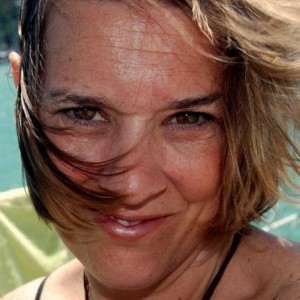 Coming back to Fictionaut after being away for a while has been a real joy. I found myself yet again in a familiar pattern: stopping in to read a few poems or stories, then finding myself several hours later in a space all my own, my family around me already gone to bed (somewhere in there we exchanged good-nights and kisses – at least I think we did). Sinking into prose that captures my mind or my heart. Stories that experiment and laugh on the page. Poetry that touches me with a light beauty and deft hand.
My late-night readings proved inspiring as always.
My task, as is the aim of the Editor's Eye series, was to find hidden gems that may have been overlooked. Along the way, I discovered some writers whose work I did not yet know – so that was also a delight.
Here are the results of one editor's late-night ramble through the wonderful world of Fictionaut. I hope readers enjoy these as much as I have!
This poem just knocks me out – image upon image upon image. And I love the notion that sticky notes try to order one's life, that words are perhaps all we have  (We arrived by noun, verb, syntax at the heart's empty page. Not a moment too soon.) – and yet, the writer hits us hard with so much more. I found myself thinking with each stanza "I'm awake!"  – like word and image were snapping me to attention. If I tried to quote one or two or twenty of my favorite parts, this paragraph would end up referencing the whole thing. Just go read it yourselves. You'll see.
Conversations with Death and Medieval German Lit: what's not to like? What I really admire about Strosche's approach to this story is how he manages the pacing: the almost academic approach to story-telling – the essayistic prose, the straightforward timeline, the references to dark and difficult themes (you know, the kinds you find in German Lit) – with a great twist at the end. Our hero Ackermann treads just above water in a life that follows a somewhat typical trajectory (grad school, internship, travel through Europe, work at an online journal, girlfriend), while something dark threatens to tug him under: this is careful writing. I also like the shift in the last paragraph, how we finally glimpse the narrator, and are left wondering about a whole new set of questions. There is a lot of mystery here, between Life and Death.
Two from Rene Foran: aromatic and au
– because they are a mere 13 and 10 words, respectively, and oh so lovely, and full.
I loved this from the opening stanza and image: The wooden man came to her in a cloud in a vision in a dream in a story. When he spoke, his tongue clacked against his teeth. This put me right on edge – got my attention and held it. A remarkable set of reflections: new myth-building and sharp writing. I also really admire the way this story closes. Because you gotta wonder from the title and the opening how on earth the writer will manage to end this piece. And he does,  just right – with a closing line that haunts.
This poem opens marvelously and works its way through history and story in a seamless manner. I admire how Ratch weaves together two things as diverse as strings  in a bird's nest and cave paintings of Lascaux, both serving a purpose: sending a message, or teaching an important lesson. The question of intention seems, to me, to be at the heart of this poem. How history may or may not be a set of lessons. There is a precision in this poem, and then there's the final line, which surprises and delights, as if to say something about the randomness of it all. In the end, I'm not sure that's what the writer intended or not – but I think there's a lot to this small poem, and I admire how it moves so lightly from beginning to end, and leaves me with some big questions.
This is a poem that holds in its heart one simple idea. There is something about the mother with her one-way ticket that is so utterly un-sentimental but full – I really like that idea. The contrast between the one-way, single-focus mother and the GPS-obsessed, round-trip engineer works really well. I feel there's even more to this poem/ story.  But I like the hint we have here. It may be too much for cynics, this poem, but the mother in this poem knows what love is, and I admire the writer for bringing us, ever so briefly, into her world.
________________________________
Michelle Elvy is a writer, editor and manuscript assessor based in New Zealand, currently traveling in SE Asia aboard her sailboat, Momo. She edits at Blue Five Notebook and Flash Frontier: An Adventure in Short Fiction. She is also an assistant editor of Flash Fiction International (W. W. Norton, 2015) and on the editorial team of Best Small Fictions (Queen's Ferry Press, 2015). Her poetry, fiction and reviews can be found in numerous journals and anthologies. Her latest story appears in Smokelong Quarterly. More at michelleelvy.com. You can also find her at her blog Glow Worm and sailing on Momo.