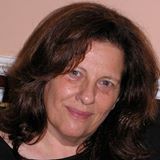 And now, here we are, bogged down in the February Flats where light is a precious commodity, and our days are blighted by sleet and wind. There's a carwash in my head: I look straight ahead, but the view is obscured by the slap of water and greyish mists. Reading fiction is my antidote to all things dreary at this time of year. So, going into the Editor's Eye this week, I was mining for poems and stories that would shed light, lift me out of the Flats, make me laugh (whether at comedy or whimsy or just delight at a fresh point of view). Five outstanding writers warmed me, cleared a path forward and illuminated the winter gloom: Darryl Price, Katrina Trepsa, Lorna Garano, Peter Churches and Ed Higgins, I thank you.
Darryl Price presented us with a group of eleven poems in "Mailings."
Darryl has such a strong command of language that I hear kettle drums when I read him; he never tiptoes around words. He stomps and marches them toward the front lines where they do glorious battle against equivocation. He is wrong when he writes "I'm mucked. No one is going to discover my poems in a locked away desk drawer somewhere." That will never happen. This writing is too good.
I have no favorite poem among the eleven, but there are favorite moments.
Your face in my hands
is a lot more fulfilling. How many more ways can I break
this to you? I don't care if they read my poems in school. I care
that my poems talk about the soft skies of your eyes over
and over again. It's never enough/
from "I Was Supposed to Write This."  Or,
whenever
someone says that they like my stuff I
immediately feel like a failure. Like is for
ice cream I'm thinking. Like is for sex and
walks in the park. Where's the love? It's the downfall
of my house of poems/ from "Safety First."
One last excerpt (and yes, I love your "stuff," Darryl) from "It's a Beautiful Banana Moon:"
…. the latest pushy words still want to give themselves over 
to you tonight like ants on the march. I
definitely tried to stop them. …. And so,
 nothing quite as new as a golden
nugget cracked on a struck rock, for you
or for me, or full of potential
as a gestating pearl. It's just a
regular miracle fruit in a
deep blue basket of folded, wading 
stars.

When I read "a deep blue basket of folded, wading stars," you banished winter and warmed my hands and feet. Your poetry was a hearth.
********
Lorna Garano brought us a fable about health and fear with "The Sick."
It's by far the longest piece I've read on Fictionaut, full of rich characters and careful plotting. Following the death of Winsome Rehaga, in 2087, a household juggles the superstitions and semi-science that so often overtakes people in the time of a plague. The world is divided into Well zones and Sick zones (the word Sick is always capitalized the way a religion is capitalized or a famous battle). Garano's characters include her narrator, Salda, who is a Domestic; Sorayda who is a snitch, and others who worry they might become one of the Unemployables. She perfectly balances the story's science fiction content and its naturalistic emotional content. Food is made in labs, and things sometimes go wrong.

This time it was breadfruit. A few months ago it was plums and the year before Brazil nuts, tangerines, and parsnips. To write a contemporary history of our country would be to write a history of food fights. In 2087 a full-blown riot erupted over cantaloupe, and between the police shootings and the internal killings, more than a hundred people died. Eighty-seven was a year of riots and tumult on all sides. It was also when a group of protestors broke into HealthLink demanding airtime. "Malcontents," Grandmother called them. "They shouted their nonsense conspiracy about the Well keeping themselves artificially healthy," she told Mother.   
This is my first encounter with Garano's work, but I will be looking for her byline from now on.
Peter Cherches' "Working with Frank," is a quirky story about a young man who has to help his boss on the eve of Thanksgiving.
Together, they have to manhandle poultry out of an extra cold refrigerator. Set in the notorious Perdue chicken plant (notorious, in real life, for harsh working conditions and undocumented workers in several southern states), the story is a small gem. The narrator, a proofreader of recipe labels and a cog in the huge agribusiness machine, meets the actual Frank Perdue and finds him shorter and fatter than he appears in his TV ads. The piece has a creative nonfiction feel to it.
"Frank," I said, "I never knew we sold turkeys."
"There's a lot you don't know, young man," he said. "For one thing, these aren't turkeys."
"What are they?"
"These are my new big-breasted super-vixen oven stuffer roasters. Just perfect for those big family get-togethers, like Thanksgiving, Christmas, and Passover."
"I've never seen such big chickens," I said. "How do you do it?"
"It's done with a combination of genetic engineering and nuclear radiation," he said. "And the results are just scrumptious."
For me, the story ends too soon. I want to see the two men sitting on the loading dock, passing a bottle of wine back and forth, and I want to know the secret formula for making radioactive chickens. (But then, I want Boo Radley to sit on the porch with Atticus and start speaking, so what do I know?)
Here's a little slice from Ed Higgins' "Writer's Cough."
I. . .Oops . . . . . . wait a sec!. . . I'm stopped, astounded, stunned between coughing my left lung clear over my keyboard and watching it flopping on the back of my desk just now. . . Oh shit! my spat-up, spasm-seized lung just slid behind my printer and down the crack between the wall and desk. . .
Caught between grimacing and laughing big honking guffaws, I left the February Flats far behind for a delicious few minutes. This is the kind of writing to kick flu season in the butt. Inspired, Higgins says, by chewing "vile tasting zinc gum" one time when he was sick, the gum make a comeback here:  Tastes like a half-rusted galvanized rain gutter.
As he tries to retrieve his lung from under his desk, it finally comes back to him with dust, paper clips and post-it notes stuck to it and must be washed off before he can swallow it back into his body.
And would your believe, one of the lost sticky notes from under my desk that I flicked off my dust-bunnied lung is just the inspiration I need to finish up this frigging story I've been stumbling around in. "Snot. Do something with snot," the still bright-yellow sticky note says.
Kudos to Higgins: This may be the first recorded use of "dust bunny" as a compound adjective!
"Jumpers," by Katrina Trepsa, is a gripping story about two women who ride on the roofs of trains to travel across Mexico, as so many migrants do for survival.
They risk their lives with each attempt, their tools consisting of cardboard and string. They need to place the cardboard between their bodies and the hot metal of the train roofs; they use the string to tie themselves down so that they don't slide off.
At dawn we walked across the lawless and nameless countryside, avoiding checkpoints, and speaking little. The thick overgrowth gave way to loosely paved roads scattered with plastic bags that clung to the gates of cattle ranches. We reached the tracks at midday.
Both narrator and her companion are nameless, but Trepsa makes them utterly real – maybe all the more so for being nameless like Woody Guthrie's "deportees."
The companion is utterly practical and instructs the narrator, "Your body is a credit card," she said. "Cuerpomático. Use it to buy yourself a little safety."
Trepsa says she was inspired by an article in the Guardian about Central American migrants traveling to the U.S. on freight trains through Mexico, and she recommends reading Salvadoran journalist Oscar Martinez on this topic.
With her short story, she has created a snapshot of a friendship born out of necessity, and I have no doubt there are thousands of such friendships like this one being forged right now, as we read.