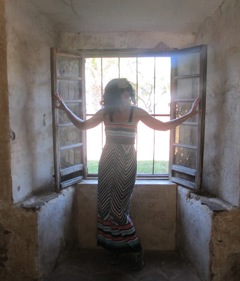 I haven't been hanging out at Fictionaut lately as I'm mired in the fall semester at UTSA (they're making me read Beowulf and maps…I'm in agony) but I told Michelle months ago that I'd do this Editor's Eye thing so here we are. I've never exactly prided myself on my editorial style. My comments on pieces I appreciate range from "love this so much!" to "this really fucking resonates with me." The strange thing is, after leaving the ex-boyfriend for good (we were on and off for a year and a half) last Mother's Day I discovered that I can editorialize for days. Joining various dating sites and posting ads at Craig's List will have that effect on a woman. My mad flurry of weird dates and weirder flings with strange San Antonio men taught me at least one thing and I think it's valuable: I know exactly what I do and do not like and I can tell you why in excruciating detail.
Plantar Fasciitis by Carl Santoro
I love the clever pop culture savvy banter. I especially love this bit: "I'm on a pot fast also. Just want to see if the every day vanilla version of me has what it takes. Sadly, I do miss the psychedelic crutch though." I could hang out in Applebee's with these characters. I avoid Applebee's but if these characters were hanging out in Applebee's I'd go in there and buy them at least one round. What the hell does that tell you? Best of all, the couple dances at the end. Couples don't dance anymore. I hate that.
Out of Stardust by J. Lin
I was drawn in immediately by the promise of heartache and poignancy. The first sentence clued me in on impending disappointment. Things were going to go badly for the characters but the protagonist seemed to possess enough style and savvy to rise above the shitty circumstances. I would suggest a few minor tweaks but when the prose is this rich and the characters are this real I much prefer a piece like this to a finely polished piece that reads hollow and false.
Living Alone by Dallas Woodburn
This is so weird. I love it. It reminds me of my ex-boyfriend. I was living with him. He was not living alone. But he was so used to living alone that he would scratch his back against the wall. He told me about one time when he lived alone and was so sick with the flu he had to crawl into the kitchen and make himself a bowl of soup. That always stuck with me. I adore the details in this story, the Skittles and Cheese-Whiz (Google tells me it's Cheez Whiz) and…Applebee's. Holy fuck. Is the universe trying to tell me something?! I cannot explain why but this story reminds me of Ann Beattie's Chilly Scenes of Winter, a favorite of mine.
Gregory Dates a Witch by Steven Miller
This is ridiculous. I like ridiculous. Reminds me of a guy I dated/fucked last month. He told me about a time in Mexico when he fucked this woman on a beach and for some inexplicable reason there was a caged alligator near the woman's head. The alligator opened its mouth and the woman died of a heart attack. I thought, "Gee. I want this man. He has lived such a colorful life." I told my ex-husband about the story and he said, "Come on, Misti. You're too old to date jokers like that." I have a tendency to fall in love with jokes, jokers and stories that are absolutely balls to the wall absurd.
_______________
Misti Rainwater-Lites is the author of Bullshit Rodeo and other works of fiction. Misti maintains a blog called Chupacabra Disco. She is forty-one years old and still wears glitter and striped tights on occasion.