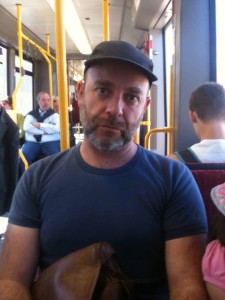 To misquote Gary V. Powell from a month ago, I have plenty of academic credentials, but none of them is an MFA. Still, I don't feel bereft without one! Below are efforts that struck me quickly, hence there being only 4. And they are all short.
If you've read Editor's Eye before, then you know the drill.
Such a winning title! Funny / sad, or quirky / sad are big with me, so while it's a little repetitive (perhaps using it as a song lyric would work best) you can't go past the image of this sad woman handing out morsels of meat. Is she paid for it? I think she is, but an old homeless woman handing out (what?) in a public space keeps coming to mind instead, rather than in a supermarket, which is probably what she's really doing.
Sad hopeless cases pretending to be people they're not is a favourite theme with me too (in fiction, not in real life) so this has immense appeal. The killer line is so simple: Be yourself, it can't hurt forever.
And just in case you wanted to know, if he wanted to be really authentic, he'd say "Gidday" or "G'day" (either spelling is fine) and "Oi!"
The punctuation in this needs to be fixed up, but I adore pigs and the idea of packs of pigs and packs of poets running around Prague and its environs made me laugh. For me, writing is about using words to create images in people's minds, so the picture at the end of poets and pigs trying to each take over Prague's Staroměstské náměstí (the main square in the Old Town) as the famous clock bongs and the tourists scatter as the poets scream and the pigs squeal, well, it had me then.
The shock of the word cunt makes this piece. Place it earlier, and it alienates too much. But here it made me laugh out loud, the precious words and almost dainty pictures smeared away by the force of the final image.
__________________________________________
Matt Potter is an Australian-born writer who keeps a part of his psyche in Berlin. Matt has been published in various places online, and he is, rather amazingly, also the founding editor of Pure Slush. You can find Pure Slush here http://pureslush.webs.com, and more of his work at his website here: http://mattcpotter.webs.com/.
Editor's Eye is curated by Michelle Elvy (Fictionaut profile here). She writes and edits every day at michelleelvy.com, and readers can also find her editing Blue Five Notebook (with Sam Rasnake) and Flash Frontier.