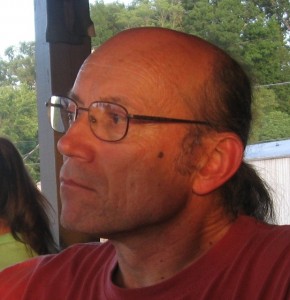 When Michelle Elvy asked me to submit the latest Editor's Eye, I felt a bit of an obligation to search out new writers I'd never read here.  I went to the People list – in quest of Newest Users.  What I found was that in the past year, most of the recent members of Fictionaut have yet to post a poem or story.  I wondered at the reason.  Many of the new writers – certainly not all, but a large group – have yet to comment on other works here or have only rarely surfaced with their presence.  Why join and not participate?  Maybe the answer is that Fictionaut is a bit of a beast when you first join – how to navigate, what's expected, what type of writing … and so on.  From my point of view, the burden rests with the founders, board of advisors, and veteran members – I joined in 2009, so I'm speaking to myself – to become more active in encouraging new members once they're here, to keep them involved.  Joani Reese developed a Welcome and Primer, posted at the beginning of the Forum.  It's a wonderful introduction, and I recommend it to everyone.  I wish I could have read its guidelines when I joined – what a help that would have been – but I'm glad it's in place now.  One of the requirements in joining FN should be to read that introduction.  It could, no doubt, save writers from futile efforts and help minimize frustration.
For this installment of EE, I settled my focus on neglected readings that deserve a wider audience, and I found many.  Some of the writers I'm familiar with, some not.  Here are five pieces I hope you find rewarding.  I know I did.  In the words of two great British philosophers – Lennon & McCartney – "So may I introduce to you" …
Emily Bertholf is quite adept at drawing in the reader.  Her use of details – "cascade of porcelain," "refrigerator clicks and hums," "pots, cups, saucers, pitcher, bowls centuries old," and "yellow sweater" – is emphatic in creating the world of the poem.  The focus in the lines is constantly moving – either by physical motions within the piece or the flow of imagery – "creeping," "splash-crack-crash" "swaying" – to the reader's eye.  The phrasing is tight and effective.  The lines keep playing their music in my head.
More works by Bertholf: "Boy Toy," "Hero Song," and "Teeth, Face, Hand"
A calm and personal tone takes over in describing a moment of memory in Loyola Landry's poem.  The phrasing is casual in an appealing way – believable, natural – holding the reader's interest.  Because the poem's speaker never waivers from the woman at the center of – though never directly placed in – the poem, we are accepting.  We become good listeners.  Though never directly stated, a loss creates a hole in the poem, and its telling leaves plenty of room for elucidation, for connections, for the reader's own discovery of the what and how.  Good writing.
More works by Landry: "Life Stats," "The Rock & the Crow," and "Without a Goal, in Need of"
The Swiss artist Alberto Giacometti stands in shadow only behind Carl Santoro's brief poem.  "Head Holding" is laser-clear in its purpose: the nature of art.  Readers encounter a stand-in for the artist – an everyman/everywoman directly at work – "the clay-filled thumbnail / hollowing out a new eye".  A new way of seeing, of understanding art.  In the poem sculpting serves, at least for me, as the sum of all creative arts.  As writers, painters, photographers, musicians, filmmakers, dancers – we all strive for, without reaching, the perfect moment.  Our hands, eyes, feet, bodies fully at work in the art.  That's the journey.  The arriving – though hoped for ("Giacometti would throw up") – is never found.
More works by Santoro: "Blocked – A Facebook Tale – 13 – Baboquivari," "IRON Meditations (thoughts while pressing a clean shirt for work)," and "The Yardsale is Over and the Rain is Falling and It Is Getting Dark"
I like the straight-forward telling found in the works of Linda Seccaspina.  The phrasing in "The Day the Internet Disappeared" is informal and, oddly enough, given the material, relaxed – not worried about intent or purpose.  All imagery and motion push the story forward, closer to apocalypse.  Bits of life – of a reality – lives altered with no going back:
As she slowly scanned the newspaper she noticed words were spelled wrong as writers   had to remember how to spell again without the benefit of red squiggly lines informing them of misspelled words. Those that had been addicted to the internet had suddenly become illiterate.
and
Myrna wished she could have gotten all the music she could have before they had pulled the plug, as now the human race was back in the stone age soon to wipe each other out.
This piece is the 8th work from a series: "Linda's Dreadful Dark Tales".  Seccaspina is a writer with a personal vision, tapping into the wilderness of "I" – and I connect with her approach.
More works by Seccaspina: "Behold the New Day That Allows the Rabbit Hole to Disappear," "Naughty Alice – There's No Laughter When You're Extinct," and "What Day is it?"
This flash by Katrina Trepsa is ekphrastic in its origin, drawn (as inspiration only) from a photograph, Girl in Fulton Street (1929) by Walker Evans.  The connection between Trepsa's story and the photo end there.  She creates a character, giving her a real world – as if suddenly, the image in the photo begins to move, and readers become a part of that world.  The writing is compressed, image-driven and successful – leading to a strong closing – "The satisfaction of seeing his face hover between desperation and contempt was worth the trip downtown".  Well done.
More works by Trepsa: "Golden Dawn," "Seventh Avenue Local," and "Upper East"
____________________________________________________________
Sam Rasnake's works have appeared in The Southern Poetry Anthology, Best of the Web 2009, Wigleaf, OCHO, MiPOesias Companion 2012, Big Muddy, Literal Latté, Poets / Artists, LUMMOX 2012, BOXCAR Poetry Review Anthology 2, and Dogzplot Flash Fiction 2011.  His latest poetry collection is Cinéma Vérité (A-Minor Press 2013).
Editor's Eye is curated by Michelle Elvy (Fictionaut profile here). She writes and edits every day at michelleelvy.com, and readers can also find her editing Blue Five Notebook (with Sam Rasnake) and Flash Frontier.