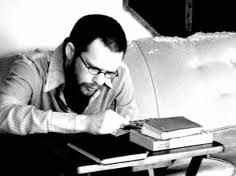 Brian Warfield lives in Philadelphia and publishes chapbooks thorugh Turtleneck Press.
What is your feeling about having mentors as a writer? Talk about the mentor relationship if you will, its importance to a writer…
I don't really have a mentor but have always wanted one. I guess there are certain writers that I look up to and emulate. I have reached out to my top ten living authors and some of them have responded. I think it is important to have some kind of personal relationship with someone who knows more than you who is willing to be of assistance. I think just having a group of supporters is as important as a mentor. I also tend to be very self-reliant and foster self-mentorship.
What do you do when you feel stuck or uninspired and does it work to trick the brain into working?
I feel that way right now. And no, it is apparently not working. I think I underestimate myself a lot. People consider me to be more prolific than I am, more hard-working. I think periods of rest are crucial. When writers tell me that they are quitting writing, I say "Good." It is usually after you've given up that you let your mind rest and it presents you with better material than if you had continuously prodded it. Nevertheless, I mostly hate not writing. This segues nicely into the next question.
Are there favorite writing exercises or prompts which you use regularly & will share?
Lately I've been looking at this website which dedicates one story or poem per year from 1400-2012. Also I find working with these moves  interesting. I tend to write more fiction than poetry and I don't find prompts helpful for my fiction writing because I tap into my own stuff there. They are probably helpful to others though.
Suggestions for making characters live? Do you know who they are before you write or do you find out who they are in the writing?
I'm actually not very good at character development. Or, I don't consider it my strong suit. I live in my own head a lot, and I would imagine most of my characters are just shades of me or embodiments I wish I could become. If I had to pick whether I know them or not before writing, I suppose I would have to say that I always write to discover new things. So I don't know much ahead of time except certain elements that always find their way into writing and letting new routes make themselves known.
Ask yourself a question here (what question would you most like to be asked?)
What was the last movie you watched and how did it make you feel? I just watched the movie The Future by Miranda July, and I guess I'm mentioning it because I'm curious what other people thought but I don't feel like reading anonymous reviews of it. So, feel free to comment. I didn't know what to expcet, having really liked Me You and Everyone We Know, and kind of getting the Miranda July backlash. She's kind of twee and anti-twee at the same time. Very heart-on-sleeve but also dark. I thought it was strange that on the cover of the dvd it says The Future is laugh-out-loud funny, because about the only thing I did out loud was sob. I felt it pushed at the viewer in a very sensitive way to make you uncomfortable but also, like, alive. I liked it.
Please talk about your press, your work, what you are working on now.. anything related to something new or forthcoming… or just out!
I publish chapbooks through Turtleneck Press. Our latest release is THEN by David Greenspan, which is a collection of linked prose poems. We have a number of other titles available which all tend to push the boundaries of genre and category. At the end of the year we will be publishing a poetry chapbook by Gabby Gabby.
On a personal publishing note, my ebook, Shotgun Torso, is slated to come out from Up Literature sometime in the near future. This is interesting, as I have never done anything specifically for ebook. I also have a novella that is being read by editors for hopeful eventual publication.
I think it would be cool if someone wanted to write a comparative essay on all of my stories which are linked here.
The Fictionaut Five is our ongoing series of interviews with Fictionaut authors. Every Wednesday, Meg Pokrass asks a writer five (or more) questions. Meg is the editor-at-large for BLIP Magazine, and her stories and poems have been published widely. Her first full collection of flash fiction, "Damn Sure Right" is now out from Press 53. She blogs at http://megpokrass.com.