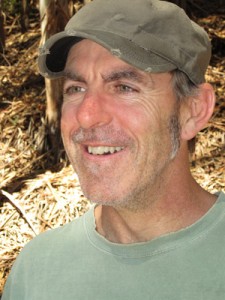 James Claffey hails from County Westmeath, Ireland, and lives on an avocado ranch in Carpinteria, CA, with his wife, the writer and artist, Maureen Foley, their daughter, Maisie, and Australian cattle-dog, Rua. He is the winner of the 2012 Linnet's Wings Audio Prose Competition. His work appears in many places including The New Orleans Review, NAP, Press1, Connotation Press, A-Minor Magazine, Literary Orphans, and Scissor & Spackle. His blog is at www.jamesclaffey.com.
What is your feeling about having mentors as a writer? Talk about the mentor relationship if you will, its importance to a writer…
Mentors have been critical to me at junctures in my writing life. As an undergraduate at UC Irvine I was in Geoffrey Wolff's workshop for two quarters (one where Maile Meloy took over because Geoffrey had a heart problem that needed surgery), and his wisdom and advice proved the early spark for me as a writer. I stopped writing for six years after undergrad, too busy teaching high school to carve out time to write. At LSU both Jim Wilcox and Jeanne Leiby were stalwart mentors to me; particularly Jeanne, who gave so much of her time and insight to my thesis project. We were of an age, similar interests, and hit it off. Just listening to Jeanne speak about writers and craft, in between her riffs about politics and the vagaries of life in Baton Rouge, was a wonderful experience. Jeanne opened me up to writers I hadn't read, like Ron Hansen, Andrea Barrett, William Gay, so many others. We also conference called writers, agents, editors every week, and got to chat with great people like Billy Giraldi and Christopher Schelling. I wrote my first flash fiction in her forms course: 200-word shorts based on an updated version of Thornton Wilder's Our Town. Her death was a terrible way to end my time at LSU, truly shook me to my core. I miss her a great deal, the diet cokes and cigarettes, the strident opinions about everything. Still, at AWP two years ago we had several dinners and very late nights in the lobby talking fiction and life with various people. She just loved to pour forth on writing; so passionate. These days, post-MFA, new baby in the house, readjusting to life back in California in this economy, I don't have a mentor as such, but there are plenty of wonderful supporters of my writing who've helped me navigate the waters, and so many folk here at FN who provide feedback and support for my writing. if I named names it'd take up the whole page!
What do you do when you feel stuck or uninspired and does it work to trick the brain into working? 
I read something that might spark a bit of writing. A lot of times I turn to Ron Hansen's Mariette in Ecstasy, the form and the language energize me. Also, Mark Richard's House of Prayer No.2. Then there are short exercises, your word lists, which I always find a great way to kick-start something. I'll also dip into my memory and find something that triggers a sentence, then a paragraph, and so on.
Can you offer some suggestions for making characters believable? Do you know who your characters are before you write, or do you find out who they are in the writing? 
I don't know who they are before I write about them. It comes out in the writing for sure. The character in my Irish story literally burst out of the pen for me. I hadn't been happy with the "voice" of my first novel, and suddenly, late last summer when I began writing into this new  (familiar) world, this voice simply appeared on the page, and it felt right, straight from the first sentence.
What's the best writer's advice you ever got?
I'll steal and paraphrase from Cheryl Strayed's Dear Sugar, and the Rumpus coffee mug: "read like a motherfucker, write like a motherfucker." I'd tell my undergraduate students in their workshops, you won't be a good writer unless you're a good reader. The reading is part of the raw material for the writing process. If the reading tank is empty, then there's no way the writing can come forth properly. I don't know a great writer who isn't a great reader.
Please talk about the novel(s) you have written and are working on now… 
 The first one was my MFA thesis, and it's a story of a man living in the United States, searching for the ghosts of his past, dealing with a crumbling marriage, a parent's death, and figuring out how to go on. The narrative switches between present-day USA and Ireland, and his teenage years in Dublin.
My current novel is sort of an mash-up of The House on Mango Street and We the Animals. Many excerpts have appeared at FN, and have been published in numerous places, and it's basically a story about a young boy growing up in Dublin, searching for his father's love. I'm hopeful that this one will find a home, because I so believe in the voice of the narrator, and the way he interacts with the world.
The project I'm starting, edits permitting, is a short collection of flash fiction paired with a series of photographs of Civil War Ireland. The idea is to have the thirty or so photographs link with the stories to create a novella-in-flash manuscript.
What is a question you would like me to ask?
Answer: Is there any space left in your workshop?
Ha. I'm being facetious.
Before going to Louisiana for my MFA, I taught high school English, and since then undergraduate composition and fiction writing. Now, back in California, I've been unable to land a teaching job anywhere, and it's the economy, the economy, the economy, I suppose.
But, I've taught in the inner-city environment, where you're literally saving lives, and to not be able to contribute to that endeavor hurts. Maybe I can land a teaching gig, low-residency or traditional, but it's getting harder by the year, with adjuncts becoming the new standard for universities, and newly-minted teachers so much less expensive for schools to hire than someone with years in the classroom (much more expensive). In the meantime, I work my temp job and write my stories and remind myself that everything changes, and think of Jeanne Leiby, driving on a sunny day with the top down, the summer in full flow, and it all went away in seconds. Life's too short not to find the joy, even when the going is tough, and it's a fragile thing for sure. So, I'll take Natalie's advice. I'm going to shut up and write some more stories. Work will figure itself out, let the universe provide as we say.
The Fictionaut Five is our ongoing series of interviews with Fictionaut authors. Every Wednesday, Meg Pokrass asks a writer five (or more) questions. Meg is the editor-at-large for BLIP Magazine, and her stories and poems have been published widely. Her first full collection of flash fiction, "Damn Sure Right" is now out from Press 53. She blogs at http://megpokrass.com.