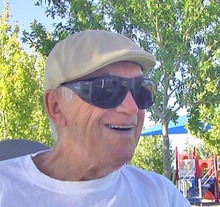 Susan Tepper:  Ramon, in your tender coming-of-age story "Posey's Pond" you begin with place described in this lush and beautiful paragraph.  You write:
Droopy cedars, skirted with huckleberry underbrush, lined both sides of the canyon. Somewhere, high in the trees, two cranky crows cawed and below them Salmon Creek glistened in the late afternoon sun."
Does this exist as a real place, or is it made out of your writer imagination?

Ramon Collins: It's a real place where I whiled away many boyhood hours. I came-of-age in the Pacific NW and Salmon Creek gurgled in a gentle canyon near our house. It was an innocent time when kids didn't have to be urged or ordered to go outside. And, unlike today, sexual predators were practically unheard of (of course, there wasn't 24-hour news).
Susan:  It sounds utterly idyllic, the perfect boyhood place to grow up.  And it makes me wonder how much personal truth is in the story.
Ramon:  I try to sit back, light a pipe and stroke my beard while I dream up plots. It doesn't work; mostly because I don't smoke or have a beard. I have to rely on actual events, then turn them into fiction plots (I think the result is called "faction").
When I was in an early fiction-writing class, with approximately 14 female students, the week's assignment was "My First Time."  The theme produced a predictable flood of "I hate my first boyfriend or husband" stories. Hey, males have first times, too! The more-experienced young lady in the scene actually deflowered me; a slightly wonderful moment (no noticeable hatred), that never happened again.

Susan:  Why Mr. Ray Collins, how very candid of you to let us peek in on one of your deep dark secrets!  In the actual story, your two teenaged characters Josh and Amy (obviously school friends) take a walk to Posey's Pond where they go skinny-dipping on a hot day.  That scene is quite poignant.  You write:
"What if someone sees us?"

She shook her short-cropped hair. "Who cares?"  Amy dipped a toe in the water, then straightened up. She was slender with a slightly arched back and small breasts. She faced Josh, jammed her hands on hips, pointed her elbows out and moved them back and forth. "Come on, buk-buk."
It's such a bucolic setting.  Your dialogue is spot on.  We are lulled.  Did you want us lulled, was that intentional in this writing?
Ramon: Ms. Tepper, you hold them, I'll lull 'em. The characters are; Amy 12, Josh 13.
At about 600 words,  "Posey's Pond" is relatively short Flash and the plot must unfold fast. My intention is always to let the readers participate in the story; to draw them in as if they were at the pond. In that particular scene, I tried to use brief physical description of Amy to project an image into the imagination. Y'know, not to overdo it – just enough implication to make readers feel they're not just reading a story, they're co-authors. At the closer let them think, Josh was right – there WAS someone up there!
I sincerely believe reader-participation is the key ingredient in short-short fiction. My favorite writers in this relatively new craft have an art background or a true appreciation of art principles and elements; they are "visual" writers.
Susan:  Excellent points.  Yep, draw in the reader as a participant in the story.  You make it sound easier than it actually is.  My favorite stories are those written in first-person POV or close-third-person.   I found your descriptive parts very beautiful.  Of Amy you write:
"Amy dipped a toe in the water, then straightened up. She was slender with a slightly arched back and small breasts. She faced Josh, jammed her hands on hips, pointed her elbows out and moved them back and forth."
This is so classically teenage in its stance, with her elbows moving that certain way.  It's the sort of thing that cements 'character' too, and is personal in the sense of letting the reader get up close and personal to the characters and events.   There is a deep sweetness and innocent quality to a lot of your work.  How do you account for that?
Ramon: Perhaps it's because I'm  – blush – sweet and innocent.
In short-short fiction writing it's a good idea to show action at every opportunity. I remembered that action from watching people do the "chicken dance" in a local park ("Come on, buk-buk."). My characters are based on a composite of real people – they're not snatched out of thin air.
Thinking of the weekly prompt, it was an innocent moment and the other students' angrier reactions were slightly disturbing. I still went to church in those days and I think the memory is indelible; as if the creek area was a secret,childhoodGarden ofEden. As I recall, Adam and Eve felt some confusion, too. It was a brief moment followed by a cascade of guilt for me. I dunno about her; we only met once in the hall in senior high school. The meeting was cordial, but certainly lacked the electricity of our first encounter, when she was much more sophisticated than I.
Read  "Posey's Pond" by Ramon Collins
Monday Chat is a bi-weekly series in which Susan Tepper has a conversation with a Fictionaut writer about one of his or her stories. Susan's new book From the Umberplatzen is a collection of linked-flash published by Wilderness House Press.