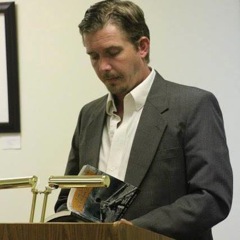 I do a lot of reading here at Fictionaut these days.  Occasionally I'll share a story of my own, but mostly I just read.  I've even taken to commenting less, which is sort of neglectful, I know, but it's true.
I'm not sure when I made this change, but I do remember seeing the tagline "For adventurous readers & writers" and something just sort clicking for me.  I needed to be a better reader.
So, here I am, trying to do that.  Over the course of time I read for this series I bookmarked several stories – probably twenty or so, all told – but eventually, and by requirement, pared that down to the five you'll find here in my list.  I made no effort to vary things in any way.  I chose the stories and poems and essays (yes, there's all three in this list) based solely on my own tastes.
That said, I hope you find some you'll enjoy among these.  Okay, here goes, in no particular order: 
The breakdown of language through phrases in this is miraculous.  It's one of those stories I can see the writer just absolutely knowing he had a great idea on his hands and went with it.  And Peter pulled it off in spades.  My favorite: "'I perceive faces as religions.' This is a phrase I say to tighten your shoulders."  And it all comes to together to create a narrative full of heart and mind and craft.  Read this.  You won't be sorry.
This is another with some experimenting going on.  Like I said, these is my taste.  As with Erich's story, Whyte does the same, but takes building a narrative from her listing a step further.  Whyte explains in her notes that this is a personal essay.  A personal essay built from footnotes about foxes, all of which are included at the end of the story.  Built from footnotes!  Excellence!  One of many favorite moments: "Your red mouth is a great cave laughing into the sky that is open and begs for your songs."
I've read several of Simons's pieces on here, but this one is now my favorite.  Compact and economical, this poem makes every word work perfectly.  It hums along with language that just rolls, you know?  For example, this beginning: "Suddenly at desks in abattoirs/Where slicing the culture/Leaves answers between cuts of prime truth."  On and on.  Two stanzas, with a final image that just kills it.
This immensely sad story covers a lot of ground quickly, but despite that, it is fueled with great courage that a reader cannot help but pick up on.  This one's not about the language (it's pretty straight forward with not many frills) or the structure (ditto) it's about writing something that likely tore at the heart and took bravery that some of us will never know.  And, like with Simons's piece, that last, stand-alone, italicized paragraph just melts the world.
This, the third experimental piece in this list, is possibly the most bold.  It has, as of this writing, still only garnered a single "fav" and a mere two comments (one of which is mine, as is the single "fav", and the other Cherches's thank you in response).  From the author's note: "I was attempting to use the slowly unfolding, repetitive techniques of minimalist composers like Terry Riley, Steve Reich and Philip Glass as a basis for prose."  This was accomplished.  Task completed.  Bravo.  A taste of the way Cherches pulls you into this story?  Sure thing.  Here's the first five sentences: "Morning now.  It is morning now.  Is morning now.  Now.  Morning."  And it just gets better from there.
___________________________
Sheldon Lee Compton is the author of the collections The Same Terrible Storm and Where Alligators Sleep, both from Foxhead Books, as well as the forthcoming novella Brown Bottle, due out from Artistically Declined Press in the summer of 2015.  The founding editor of Revolution John, he does now and has always survived in Kentucky.