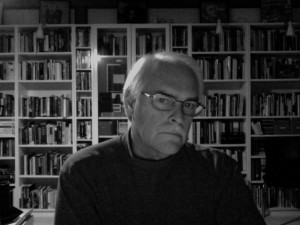 We are all editors here. And everywhere we confront or are confronted by language. The mass of written, spoken, sung, enumerated, painted and designed content/information would overwhelm us if we didn't have standards and expectations about the qualities of invention, presentation and discourse that interest and engage us. Each of us curates our private experience of art, science, politics and commerce and selects the representations that move, dazzle, inspire and entertain us. Some throw extraordinarily wide and fine-meshed nets. Others fly-fish.
Since becoming a member of the Fictionaut community in 2010, I have tried to read here every day. I scan the titles, author names, and any samples of text provided to find what interests me enough to open and begin reading. I confess that if the writer is unfamiliar, anything with a word count greater than 1000 words will likely be ignored unless the volume of comments and stars suggest I pay attention. I have a short little span of attention. But, if the first sentence or line is authoritative enough, I will continue without the comfort of other opinion or familiarity. Through such combinations of curiosity and serendipity, I make "discoveries" that often lead to serious enthusiasms for particular writers and those enthusiasms lead to comments, citations of favorite passages, and "faves". Sometimes, my attentions to writers encourage their attention to my own work and a relationship comes about. Fictionaut is a social medium, after all, and there is a polite element of quid pro quo that is a natural consequence of the social aspect of the place. Yes, that aspect can be abused. In my experience, the healthy interactions far outweigh the unhealthy.
When Michelle Elvy invited me to participate in "Editor's Eye", I was both delighted and terrified. It provided an opportunity to recognize work that delighted and/or amazed me but also invited the disaster of saying incredibly stupid and shallow things about that work. Being a writer, though, allows me to ignore the possibility of humiliation and death and simply say what I can say.
The criteria for this column limit me to 6-8 pieces (unless I choose fewer or more) that have appeared during the past two weeks and have received five or fewer stars at the time of my observation. I am disappointed that John Olson and W.R. Smith did not post anything during my watch. John introduced me to the full power of the prose poem and W.R. showed me how to see the beauty and grace in sorrow, banality and human frailty. Other writers I enjoy had the audacity to become too popular for my purposes here.
I found nine pieces that I believe were overlooked and deserve wider attention.
In which the speaker has mythic and incredibly vivid adventures in pursuit of the after-feel of a kiss likened in one remarkable simile to horseradish which re-emerges as wasabi at the close. But one cannot describe a poem by Jane Flett– one must experience it first-hand. Her visual and aural imaginings are without equivalent.
Imagine the Lost Boys grown up with real jobs and real concerns like stock tips and sports scores and without Wendy. It's the No Girls Allowed world of 9-year-old boys' dreams until They begin to appear on the bus, at the supermarket, and- in the last of all possible straws- at the Friday night poker game. In a panic worthy of Tea Party xenophobes, a Wall to prevent further infiltration is debated but by the time any decision can be implemented, the women are everywhere, serving crudités between hands and generally civilizing the Boys. Fully imagined and very funny, "The Breech" is worthy of its (for Fictionaut) unusual length.
A brief reverie, wherein the protagonist is spirited, Dorothy-like, to the Home of his childhood. The suckling dog's ears simile is splendid and worth reading for itself alone. I would classify it a prose poem, myself, wanting to claim it for the poets.
I first began following James Knight's work here at Fictionaut when I read two pieces in his mannequin series. Wonderful, alternative world material and highly recommended. In "Phantom head syndrome," he introduces me to a critic-beheaded Bird King, another arrestingly off-kilter alternative world character who seeks the advice of shrinks, homeopathic healers, and mystics in his unsuccessful efforts to deal with the pain and anguish of his missing head.
yawn by Lynn Beighley
A pithy ars poetica which confronts the auditory dimensions of poetry and suggests that, without them, what is the point? A debate I have with myself weekly, being terrified of reading aloud in front of actual people.
We at Fictionaut have been treated with numerous short fictions from Jeffrey Callico in the past 2-3 weeks—a trend I hope will continue. In "The Attraction," he creates an unnamed spectacle witnessed breathlessly by his he and she protagonists which, because they didn't snap a picture, is forgotten after a dinner eaten out. A concise and pointed presentation of an entertained but never actually mindful consumer class if ever I read one.
A documentary/journalistic narrative technique is put to excellent use in this multi-perspective story of a small time charmer and con-artist who crosses the wrong marks' paths and ends up singing while he roasts inside a cast bronze death device imagined by the ancients but only built and deployed in contemporary times where such devices may soon become commonplace. Excellent prose.
An Audenesque elegy of great elegance. Its depth of feeling is effectively conveyed through constraint and skilled modulation.
The problem with curators and editors is this need to have background on artists when the art is the thing that speaks for itself. This totemic little gem harvests that absurdity along with self-deprecation and a splendidly ironic allusion to Greek mythical belief systems.
____________________________________________________________
Work by Gary Hardaway has appeared at Gumball Poetry, Manifold, Silkworms Ink, Connotation Press, Divine Dirt Quarterly, Cu.ren.cy, The Olentangy Review, Ochre and Umber, The Arlington Review, Eye Socket Journal, and Blue Fifth Review. He currently lives in Texas and has earned his living as an  urban planner and architect.
Editor's Eye is curated by Michelle Elvy (Fictionaut profile here). She writes and edits every day at michelleelvy.com, and readers can also find her editing Blue Five Notebook (with Sam Rasnake) and Flash Frontier.