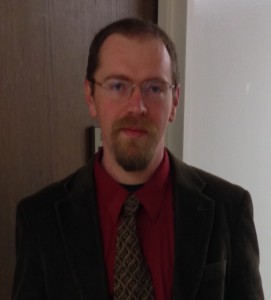 We are pleased to welcome Okla Elliott to this month's Writers on Craft.  Okla is an Illinois Distinguished Fellow at the University of Illinois, where he works in the fields of comparative literature and trauma studies. He also holds an MFA in creative writing from Ohio State University. He is the author of a collection of short fiction, From the Crooked Timber. His poetry collection, The Cartographer's Ink, is forthcoming from NYQ Books in late 2014, and his novel, The Doors You Mark Are Your Own, co-authored with Raul Clement, will be released in early 2015.
What do you read when you despair at the state of either your work or modern literature—any "go to" texts?
It's different for different genres. In fiction, I can always rejuvenate my love for the written word by reading Lee K. Abbott, Norman Mailer, Joyce Carol Oates, or William T. Vollmann. For nonfiction, it would be Simone de Beauvoir, William H. Gass, Norman Mailer (again), and Jean-Paul Sartre. Poetry has a longer list—not sure why, but here it is: Margaret Atwood, Marvin Bell, Kelly Cherry, Albert Goldbarth, Andrew Hudgins, Stephen Kuusisto, Joyce Carol Oates (again), David R. Slavitt, Maggie Smith, and Wisława Szymborska.
All of these writers have one thing in common: massive vision expressed in invigoratingly good language. When I read any of them, I feel it can be done and can be done astonishingly well.
If you could give just one piece of advice to emerging authors about editing that has served you well, what would it be?
You must develop a brutal honesty with yourself. It is all too easy to read a passage you know needs to be radically altered or cut or replaced, and yet not quite have the courage to make yourself admit it. And this brutal honesty can be applied to every aspect of your writing—the overall concept, word-by-word style issues, character development, and so forth.
How has your perception of what you "do" with your work changed as you have continued to write?
I have never thought of this before, and perhaps the reason why is that now that I do think about it, the basic goals of my writing haven't changed much over the years. Maybe that will change as I get older (as a guy in my mid-thirties, I've really only been serious about writing for a little over a decade), but thus far exploring the broken and untoward in the human psyche and incorporating as much of the world as possible have been my two main aspirations. And by "the world" I mean everything from foreign countries to history to philosophy to psychology, and so forth. I have a greedy mind; I want it all, all the time.
What do you feel is the purpose of literature?
It has several purposes, all of them equally important to my mind. It entertains us. It educates us. It teaches us empathy for others. It broadens our imagination. It helps us to make meaning of the world we live in. Without literature of some sort—be it films, religious texts, poetry, essays, or novels—human existence would be hopeless. Even religious texts, I argue, offer meaning because of their literary aspects, not their metaphysics. I mean, I think it's pretty unlikely that literal demons exist, but stories about demons can prop us up and teach us how to better ourselves and carry on more fully in our lives.
As a human being, what is the best advice you have to offer?
Feel compassion for all sentient beings, animal and human. Imagine yourself into their suffering or sadness or anxieties, and then try as best you can to help them assuage their troubles. Or, minimally, don't add to their burden. I remind myself of this regularly. Even if people are unnecessarily snippy with me or rude in whatever way, this might be because they just had a bad break-up, lost a job, have an excruciating headache, haven't slept properly in a week because of a deadline at work or a sick child crying all night, and so forth. Of course, I fail at this more than I would like—because of all the usual human shortcomings—but I find if I remind myself of this mantra-like, I am better at it for a few weeks at a stretch. That would be my advice: remind yourself of this regularly and try a little harder every day to empathize with others.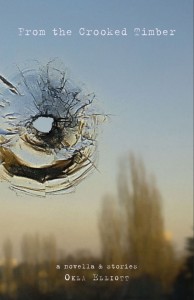 Your creative work is often informed or enriched by your external scholarly activity and I admire that you often function as a public intellectual, in discussion with the work of philosophers and other writers. This sort of cerebral vibrancy and generosity is immediately apparent in many of your discussions.  How do you find a balance between the critical work you do concerning the study of other authors and the making of your own creative work?  Is there a natural balance or do you work at finding that balance?
Nearly all of my cultural heroes are writers and public intellectuals. Beauvoir, Mailer, Oates, Sartre, and Vidal are writers who practice what Sartre called engaged literature—that is, literature that is dedicated to serving as commentary on the human condition, society, the world and our place in it. My scholarly work with trauma studies informs my literary writing constantly, since it allows me to more accurately explore trauma and violence. In my forthcoming novel, The Doors You Mark Are Your Own (co-written with Raul Clement), my work with Holocaust studies and trauma studies has been invaluable. And the philosophy of Foucault, Heidegger, Lacan, Marx, and Sartre all make appearances in various ways, so there my work with philosophy informs a post-apocalyptic sci-fi world. And even the conception of the novel, which blends Nazi Berlin, Stalinist Russia, and Golden-Age Hollywood to form a place call Joshua City, comes from my study of German literature. Brecht has a great play titled The Rise and Fall of the City of Mahagonny, which blends Nazi Berlin and 1920s gangster Chicago. I thought this would be a cool tactic to use in a po-mo/sci-fi novel, so I borrowed it.
I guess my point is that all of my various endeavors are mutually reinforcing and every effort informs every other one. My scholarly work on philosophy, psychology, and trauma informs my writing, and my writerly work helps me to better understand and teach the writings of others.
What's recently released or in the pipeline for your readers? Give us a sneak peek.
In terms of forthcoming work, in June an essay titled "Cinnamon or Crocodiles, Romanticized Suffering, and the Productivity of Error: A Polymorphous Essay in Fragments" will come out in The Chattahoochee Review. To refer to your previous question, this is an essay that straddles creative nonfiction and scholarly writing, and thus is a good example of how my various efforts converge. In October, my poetry collection, The Cartographer's Ink, will be released by NYQ Books. And in March 2015, The Doors You Mark Are Your Own will come out from Dark House Press.
In terms of recent work, readers can find my short story "The Boiling Glass" online at Tupelo Quarterly, my poem "Alien War, Human War" at Contrary Magazine, and another poem "That the Soul Discharges Her Passions upon False Objects" in the print issue and online at The Literary Review.
Writers on Craft is hosted by Heather Fowler, who cares about writing. She does a lot of it. Visit her profile on Fictionaut or see here for more: www.heatherfowlerwrites.com.