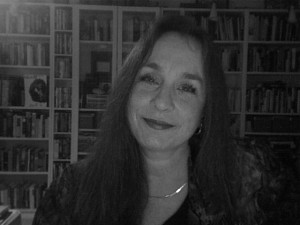 As an editor, I search for a writer whose work contains a mix of the pragmatic (as far as mastery of basic craft) and the mysterious /romantic /lyrical/ or humorous nature of plot or voice. I like a good yarn. I also adore a good laugh. Irony is my friend. I will, however, dismiss the need for an obvious A to B story/narrative altogether if a writer has a marvelous ear and a facility for word combinations that sing, even if the meaning of a story or poem is difficult, or impossible, to decipher. Sometimes, the music is enough, but that requires a fairly seasoned and proven writer, and many of us haven't reached that state of luxurious linguistic freedom. If a writer doesn't take the time to polish a piece until it glows, I tend to shut the piece down before I even finish reading. I suppose my prejudice comes from years of teaching composition and my love for the art of writing well as an art.
As I read through the offerings for my stint at Editor's Eye this week, I discovered five disparate pieces that seem to have been overlooked by the majority of Fictionaut readers but deserve recognition:  "Fish" by Nicholas Cook, "Prime Cut" by James Knight, "Let's All Get Up And Dance To A Song That Was A Hit Before Beyonce Was Born" by Roz Warren, "Seed Toss" by Oliver Hunt, and "Present Tense" by John Olson.
Nicholas Cook's "Fish" incorporates the critical components necessary for successful flash writing. Reading the piece reminded me of the Wallace Steven's line in "The Snowman" about behold[ing] / the nothing that is not there / and the nothing that is…" The piece treats readers like adults and respects their ability to conjure for themselves the larger story hidden in the background of the implied narrative arc. "Fish" is an example of flash fiction at its best.
James Knight's "Prime Cut" is a strange sort of wonderful poem that combines butchered body parts in new and surprising ways. The speaker recounts the sad tale of Orpheus in a unique and blood-soaked abattoir. The voice is so matter of fact that it fragments the reader's imagination as the scenes recounted are a bit more stunning than contractions like "…it's her day off tomorrow…" and text-speak like "…LOL…" seem to call for.  Even the author's use of strike-through on some lines is interesting and novel. This tension between what is written on the page and what is actually happening in the story as "they lick their fingers and belch him…" is what makes this poem work for me.
Roz Warren's homage to fifty years of Beatlemania, "Let's All Get Up and Dance to a Song that was a Hit Before Beyonce was Born", offers baby boomers a gentle laugh at themselves. This clever self-test asks us not only to consider how much four men's art impacted us (I knew every answer), but it also reflects an amusing perspective of society's fixation on the icons of pop culture. The piece also asks us to consider that fifty years is a long time to hang on, and underlying the laughter and pride of knowing these answers is that little niggle called impending oblivion for those of us who remember these songs in their original incarnations. Though it seems to be simple, it isn't easy to write with wit and humor. Roz does it oh so well.
Oliver Hunt's "Seed Toss" is a gritty look into a man's secret heart. The author's use of dialogue to create character is spot-on. We KNOW these two guys. The narrator is almost as unreliable as John Updike's Sammy, and nearly as amusing in his musings. Just as Hunt's narrator wonders toward the end, "… if distended adolescence could legitimately be considered a developmental disability," so, too, do readers see a bit of themselves in this flawed character who has finally learned that "…you don't always want what you think you want." Nice work.
John Olson's "Present Tense" is the work of a seasoned word wrangler. I have read and enjoyed every poem he's placed in the queue at Fictionaut, and I truly believe he is in the top tier of unsung heroes who post here and don't give up even though their offerings aren't as lauded as they deserve to be. Olson's mastery of his craft is obvious in every phrase and in the music each makes. The beauty of Olson's ideas shimmers and dances in every glorious and intelligent line, and he deftly combines both the exquisite and the pedestrian in a kind of intellectual two-step that never stumbles. John's work both delights and humbles me.
____________________________________________________________
Joani Reese (JP) is the author of two poetry chapbooks: Final Notes and Dead Letters. Her poetry and fiction have been widely anthologized and featured in over seventy print and online venues. A senior poetry editor for Connotation Press—An Online Artifact and an annual fiction guest editor for Scissors and Spackle, Reese won the first Patricia McFarland Memorial Prize for her flash fiction and The Graduate School Creative Writing Award from The University of Memphis for her poetry, where she also earned her MFA. Reese lives and works in Texas.
Editor's Eye is curated by Michelle Elvy (Fictionaut profile here). She writes and edits every day at michelleelvy.com, and readers can also find her editing Blue Five Notebook (with Sam Rasnake) and Flash Frontier.