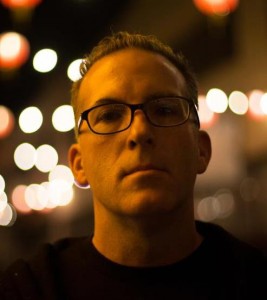 We are pleased to welcome author Jim Ruland to Writers on Craft today. Jim Ruland is a Navy veteran and author of the short story collection Big Lonesome. He is the host of Vermin on the Mount, an irreverent reading series based in Southern California. He is a columnist for the indie music zine Razorcake and writes The Floating Library, a books column, for San Diego CityBeat. His work has been published in The Believer, Esquire, Hobart, Granta, Los Angeles Times, McSweeney's, Oxford American and elsewhere. Ruland's awards include a fellowship from the NEA and he was the winner of the 2012 Reader's Digest Life Story Contest. He lives in Southern California with his wife, visual artist Nuvia Crisol Guerra.
What do you read when you despair at the state of either your work or modern literature-any "go to" texts?
I think despair is probably too strong a word for the kind of ennui that takes hold when I slide into an extended period of distraction, because it really doesn't take much to get me inspired. I get excited listening to music, reading zines, making art, walking on the beach, etc. My go-to book is probably Edward Gorey's The Unstrung Harp. It nails the entirety of the writing process from inspiration to composition, revision to revulsion. There's a scene at a party where Mr. Earbrass laments "the unspeakable horror of the literary life." Perfect. If I need a quick fix, I pick up poetry. At worst, poetry is an artful arrangement of words. At best, it's sorcery. I'm no warlock, but it's helpful to be reminded of my aspirations.
If you could give just one piece of advice to emerging authors about editing that has served you well, what would it be?
I don't know if I have any advice other than to emphasize how essential thoughtful editing is to revision process. I can't tell you how many times writers have told me that they are slow, careful writers who labor over every paragraph so that by the time they reach the end they've got the book right where they want it. I call bullshit on that. Who wants to read a novel written on a billion grains of rice? For me, I try to look at editing as an opportunity for improvement. Editing always makes me think of cut-rate surgery. A little snip here. A little snip there. And, oh my, this needs to go. Improvement is a concept I can get behind. That's not really advice, but I can tell you that that feeling you get at the end of a draft, when you just want to be done with the fucking thing, is death. When your desire to be done overtakes your desire to improve, it's time to step away, get out of your head, and plunge into the great glimmering world for a bit. You need it more than it needs your book. Trust me on this.
How has your perception of what you "do" with your work changed as you have continued to write?
It's always changing. This is something I've come to accept in the last few years. Everything is always in flux. What that means for my daily writing practice (har har har) is that if something worked really well before, it probably won't work the next time. Last spring, I was able to meet a deadline on a book project by staying in my office where I work after hours. I finished the book on time – barely – but when it came time to start the next one, I wanted no part of that office, and when I did force myself to stay I did the things that people do when they are avoiding the thing they were put here to do. I had to shake things up, make it new.
What do you feel is the purpose of literature?
Honestly, Heather. I have no idea. I think literature has a socio-historical function. To me, literature feels bound to the context of its creation in ways that don't register in other arts. That's probably a bias on my part, but there it is. Literature attempts to teach the reader about class, sex and power in human relationships at a particular moment in time. It's meaningless, of course. We're all passengers on this dinky life raft we call earth. We haven't gotten to the kill-or-be-killed part of the endgame where your next-door neighbor starts to look like a roasted chicken, but we're getting there. The water is slopping over the gunwales and we're squabbling over when we need to start baling.
As a human being, what is the best advice you have to offer?
Let it go. When I stopped drinking, I was surprised by how easy it was stay stopped after the first few months of sobriety. The desire to drink just went away. Psychologically, I was still a wreck, but recovery programs have all these tips for how to keep your head out of your ass and what to do when it inevitably finds its way back in there. This is the one bit of advice that has helped me the most. Let it go. The biggest enemy of sobriety is resentment. Getting upset over things people say or don't say, do or don't do, and so on and so forth. All the petty bullshit that eats us up because we let it eat us up, a sizable portion of which we won't even be able to remember ten years from now. Just let it go.
Your punk aesthetic informs a lot of the work you do as a visual artist, but what do you think informs which writing projects you select to complete?  Would you say you go after life experiences and they then become aspects of written material—or that your reading inspirations impact your next selected projects more?  Also, perhaps speak a bit to your experience as the host of the vibrant Los Angeles / San Diego based reading series Vermin on the Mount.  How does hosting a series like Vermin feed into your creative life?
Right now, the key word is completion. I've come to realize that I spend a lot of time and energy writing things that will never see print between the covers of a book: essays, articles, reviews, interviews, press releases, ad copy, etc. So I've put more of an emphasis on completing book projects. Publishing I can't control, but I can get the manuscripts ready, right? Life experience plays a big part of that. For instance, last year I had an opportunity to work on a book project that took me to Dutch Harbor, Alaska, which I didn't realized was in the middle of the Aleutian Islands way out in the Bering Sea. Flying from Anchorage to Unalaska was a mind-blowing experience, like going to another planet. It was a reminder that there's so much out there in the world that I have no awareness of – people, culture, food, art, etc. – and I will never find out about it unless I take that leap into the unknown. Some writing projects are the exact opposite. Sometimes I know exactly what I'm getting into ahead of time and it's good. Sometimes I don't and it's bad, like going to work at an Indian casino and getting stuck there for five years. Sometimes bad is good. Sometimes bad is bad. Right now I'm working on a collection of linked stories inspired by my adventures in pet sitting. It features a lot of cats. So there you go. You ask me about punk rock and I give you cats. But since we're back on that thread, organizing and hosting Vermin on the Mount gives me the same thing punk rock gave me when I first started writing about it for zines 20 years ago: access to my passion. In the ten years I've been putting on literary events with Vermin on the Mount I've met so many great people, so many great writers. It is its own reward.
What's recently released or in the pipeline for your readers? Give us a sneak peek.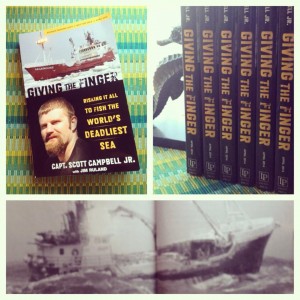 Giving the Finger is a book I co-wrote with Scott Campbell, Jr. of Discovery Channel's Deadliest Catch. It's all about all the things he went through – disfiguring injuries, colossal storms, lost crewmembers – to become a successful crab fisherman in one of the most, dangerous industries on the planet. The book is part memoir, part behind the scenes look at life on the Bering Sea. That's the book I went to Alaska for and it comes out on April 2. You should order it. Incredibly, my first novel, Forest of Fortune, which draws on my experience as an employee at an Indian casino, was recently acquired by Tyrus Books and will be published in August 2014, which, as you can imagine, I'm unbelievably excited about. Thanks for asking, Heather. It's been a pleasure!
Writers on Craft is hosted by Heather Fowler, who cares about writing. She does a lot of it. Visit her profile on Fictionaut or see here for more: www.heatherfowlerwrites.com.