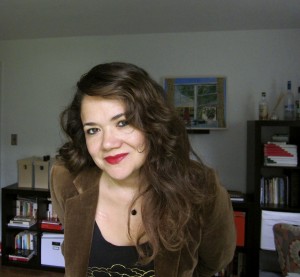 After I graduated from my MFA program, I felt battle weary. As a minimalist writer in the midst of Foster Wallace-worshipping post-modernists, my work provoked derision at the best of times or a yawn at the worst. I joined Fictionaut six months after I graduated, but I did not post work right away. I waited another couple of months before I worked up the nerve. For me, Fictionaut was a lab where I could do anything. And I did. Sometimes readers ignored a piece or chided me for writing it. But, every so often, a fellow writer acknowledged one of my pieces. The encouraging words and the critical challenges helped me to understand why I do what I do.
For this edition of Editor's Eye, I looked for pieces that not only captured my literary sensibilities (which are eclectic), but also offered a new perspective to the old problem of how to tell a story in a fresh, engaging way. I paid close attention to the decisions other writers' made within their chosen literary form, but more importantly, I looked for stories that best captured the spirit of Fictionaut– stories that enliven this eccentric playground.
(In order of most recent stories)
Love of family, of the self, and of art. Clark invokes the ethereal with precision. The voice never falters, it never meanders into exposition or trivialization, and it leaves us happily suspended.
There's grace and beauty in this poem. The emotion conveyed is familiar, but how it's disbursed illuminates the narrator's longing for identity or proof of existence.
This incessant journeying, these photographs that document
the ages of my illusory face, this cracked black pepper light
on my skin at night is but a stopgap grace.
We travel to escape the routine and experience something new, but often we miss the familiar and the place that is our own.
A good poem should feel like a shot of caffeine injected into your consciousness. It should clobber you with the possibilities of language.
Should we drag our anger and our
blue acquiescence, bloodied, over
a cat tongue rack for misplaced hope
Hamrick delivers an avalanche of a poem with humbling panache.
J.D. and "Me" are a match made in a primitive place with dial-up modems. As Chapman's J.D. Salinger quips: "The Vatican runs the place. They're not about to put in Wi-Fi." Well sweet baby Jesus, I admired the chemistry between "Me" and the fantastical Salinger. How can we not be enthralled by Salinger's deep disgust for the BK Veggie Burger and his posthumous obsession with his now maligned legacy. Don't we all love and hate Salinger. I believe some teachers assign The Catcher in the Rye because they hate their students. Ah, but wait I bought my copy when I was thirteen.
Halloween and bed bugs mayhem. A play on an itchy (sorry) problem, but also on our paranoia. We obsess over the source of an infestation. Neighbors turn against neighbors, parents turn against their children, etc.  And, what about the xenophobes who want to blame the critters on those "damn foreigners." These little shit stirrers torture and destroy our domestic sanctums. Seccaspina has fun bringing all these elements out and has a hell of a time going George A. Romero on us.
The relationship story told from a doubtful "we" or what "we" will never be again in this age of human disconnection. Street exhibits control over each sentence in the piece. The images flow with dexterity through a set of relationships each wrought with history and apples, lots of apples. I usually stay away from apples and snakes in my work, but Street's confident, lyrical style takes full advantage of all those damn apples underfoot.
What can I say, but thank you for this gem. Okum expertly weaves a little tale about egomania, capitalism, the American-can-do spirit, and corporate despotism while foreshadowing the outsourcing trend and economic doom. Here's a fun fact, I went to business school. I'm a child of immigrant parents and as such had to help pay the rent, so cut me some slack. I read (scanned actually) Iacocca's book in my sophomore year at college. I get this story at a particular level and snicker in awe. This story has already received 6 faves, but come on people, we can do better than that.
I also wish to acknowledge two stories that have not gone unnoticed by readers on Fictionaut in terms of faves: Cruelty by Deborah Oster Pannell and Ancestry.com by Nonnie Augustine. Here's a salute to these valiant writers.
Many thanks to Michelle Elvy and Jürgen Fauth for inviting me to participate in this series.
_______________________________________________________
Gessy Alvarez earned her MFA from Columbia University. Her prose has appeared in Hothouse Magazine,  A Clean, Well-Lighted Place, Literary Orphans, Black Heart Magazine, The NewerYork, Bartleby Snopes, Thrice Fiction, Camroc Press Review, Pank, and other publications. She interviews emerging and established writers and poets, and showcases links to published work at her blog, Digging Through the Fat.  
Editor's Eye is curated by Michelle Elvy (Fictionaut profile here). She writes and edits every day at michelleelvy.com, and readers can also find her editing Blue Five Notebook (with Sam Rasnake) and Flash Frontier.