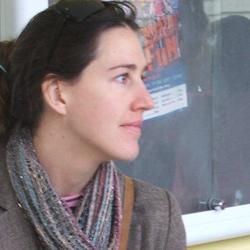 With only the caveat that I should spurn the recommended list for pieces with few or no favorites, I read for Editor's Eye in the same way I read Fictionaut for myself. That I get to share my thoughts about the pieces I've read is an additional privilege and I'm grateful to Michelle Elvy and Jürgen Fauth for this opportunity.
Starting on October 6th, I've read Fictionaut every day to ensure no newly added story eluded me. I also followed leads; I ruminated the "Other stories by" archives of writer's who, for whatever reason, came under my radar during my reading period. It's been an education. I've learnt about process, about what interests me as a reader, about my reader prejudices and foibles. I've come to realise how forgiving I am of punctuation and grammar slips when I believe in the story being told. That all authors who posted works between the 6th and 20th had my full attention and intellectual investment may be small compensation for the following short list.
An artist is the embodiment of his chosen medium in the first line of John Olson's "A Little Load of Paint". Lush, vibrant prose is utilised expertly to give a sense of the colour and stimuli that were the armature of Cezanne's work.
As a Fine Art undergrad, back in the nineties, I spent hours either poring over reference books or wandering around my home town trying to get my head inside Cezanne's. I wanted to know how to translate the rough mound and slab of industry, and then post-industry, into the cell lenticular patchwork of light and landscapes that this impressionist was master at.
Testament to Olsen's skill, he managed what a bachelor of arts couldn't, I was right there in the "theatre" "of seeing", until, "Later, toward evening, it will glow. It will swallow you whole. It will collide with everything you think you know. Everything you think you think you know", when, as if self-conscious of the poetry he's created, or perhaps in parody (?), Olson lays it on a little thick. Otherwise this piece was a tour de force of "consciousness in pigment and space" and a mini masterpiece in progress.
In just fourteen lines, Horay compiles two generations' worth of slow-baked bitterness, a father and son's finely accounted relationship. Not even a couple of rogue apostrophes could bump me out of this engagingly detailed and psychologically deep and layered narrative. Resonant, this is the work of a writer to watch.
I was drawn to the mood evoked by the title of Pirani's fiction, which I instantly imagined as a soft birds' egg blue but was surprised to be told was "purple".  This piece begins as an exploration of the adjective and takes the reader on a journey through the Proteus nature of language. Along the way, we pass a beautiful description of colour before personification brings the description to life. What I liked peculiarly was the sense of being urged to probe a little deeper into the implications attached to the descriptive tags we use. I thought Pirani demonstrated exquisitely the linguistic limitations of a group of words that's function is meant to enhance and expand understanding, by holding a mirror to the way language can be reductive. In essence, this piece flags the patriarchy of language.
This exercise could easily have gone up its own cake-hole of intellectualism, but just as it seems about to be sucked into the tea-towel holder of pretention, Pirani brings it humorously under control with acerbic wit: 'occasionally, they decapitate your name for you and call you "Deli", which we both agreed sounded like shit, and so we both avoided that one.' It's intellectual play at its most readable.
All Pirani's work is brimming with emotion – perhaps sometimes a little sentimental – perhaps sometimes it could use a little tough love on the endings, but in and among so much control and self-conscious, self-aware and trying-too-hard-to-be-clever, showy writing, Pirani's was the warmth of a bonfire slumped low with good company.
This story would make a great study subject for a semiotics paper. I read and re-read it many times. Each time, a different element presented itself to me. It's cloudy enough to be engaging, like poetry in its avoidance of spoon-feeding, but not so mysterious as to feel exclusive. I'd urge everyone to read it, then go read Saussure and come back to it and say a knowing 'Ah'.
Nixon's piece begins in a lovely farcical tone with an edge of something register-clashing to come that served as enough of a hook to lure me in – just like the Shakespeare play alluded to in the title. And this story has its own similarly innocent Hero, whose character is called into question before lights out on this narrative.
Wonderful descriptions drive the plot forward as opposed to merely adorning the narrative: "The houses all appeared twice as tall as usual, and the streetlights long and bright" – as our Hero's exploration outgrows his preparations and expectations, his surroundings dwarf him.
I like, too, that there are smells, and these are in keeping with our Hero's limited perspective. The subject of exploration – the house – is damp, but rather than saying so, which would have left the reader assuming our Hero had prior knowledge of such locations, we are informed: "It smelt like somebody had decided to do the laundry, but after organising their clothes they decided to leave them in a corner, forgetting them." This tells us so much about our Hero's character, his oversights and lifestyle.
If this were my story, I'd edit out the chat with the officer – best left to the imagination – but the ending's spot on. I'll be reading you, Nixon.
I was intrigued by the autobiographical suggestion of Mercado's title for this piece, a narrative loaded with suggestions, and I was pleased to have invested my attention. It takes the form of a poem but it's really more a flash about the inability of the speaker to write "a good poem". I enjoyed the genre bend, the play with form. I felt the ending fell a little flaccidly, though, in hindsight, this is perhaps deliberate and a clever choice. Overall, it put me in mind of some of Isherwood's Berlin stories and left me wanting more.
*After note: this story went on to get recommended, as did a number of stories I earmarked, but I kept it on my list in order that I might end this selection with a few observations and thoughts about the recommendations process.
There were a number of stories I picked early on in my reading period that then went on to make the recommended list and therefore had to leave my list. As an indication of the quality of the pieces I was choosing, this was all good. Except, what of the other stories I had chosen? Yes, yes, this is the whole reason for Editor's Eye, to find such overlooked gems, of course. But it got me thinking about what this oversight revealed about the process of recommending stories. That the others stories on my list did not get recommended has less to do with the quality and entertainment value of the pieces, as far as I can determine, and more to do with showmanship or the popularity of given authors within the Fictionaut network based on reciprocity. I'd like readers to think about this for a moment; think about what happens when we value back-patting above critical rigour. If writers were evaluated in the first instance and elevated on the basis of their social skills, we'd have to knock a good number of greats off the literary canon. The internet has opened up a fast-track highway for many aspiring authors, but I wonder how many talented greats are side-lined by a media that values extroverts over their quieter counterparts. It's my opinion that the words on the page should be considered before the personality of their author. That's just my opinion. But I hope you'll agree. If not, I hope you'll read with your mouths shut and your minds wide open.
_______________________________________________________
Rachel J Fenton was born in Yorkshire and currently lives in Auckland. Winner of the 7th Annual Short Fiction Competition (University of Plymouth), she is also the recipient of the 2013 Winter Flash Frontier Award and has been listed for many prizes, poetry and fiction, including the Royal Society of New Zealand Manhire Prize. AKA Rae Joyce she works as a graphic poet and comics creator, was Artist in Residence at Counterexample Poetics, and won AUT's Graphic Fiction Prize, 2012. Her vocal talents can currently be heard sampled in the hip-hop track '15 Years', courtesy of Jamez Chang and The Last Ancients collective.
Editor's Eye is curated by Michelle Elvy (Fictionaut profile here). She writes and edits every day at michelleelvy.com, and readers can also find her editing Blue Five Notebook (with Sam Rasnake) and Flash Frontier.