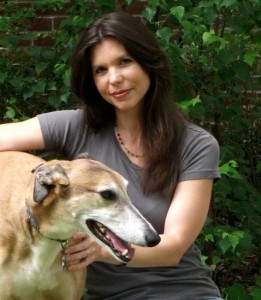 We are pleased to welcome fiction writer and poet Susan Henderson to Writers on Craft today. Susan Henderson is a two-time Pushcart Prize nominee and the recipient of an Academy of American Poets award. Her debut novel, UP FROM THE BLUE, was published by HarperCollins in 2010 and has been selected as a Great Group Reads pick (by the Women's National Book Association), an outstanding softcover release (by NPR), a Best Bets Pick (by BookReporter), Editor's Pick (by BookMovement), Editor's Choice (by BookBrowse), a Prime Reads pick (by HarperCollins New Zealand), a Top 10 of 2010 (by Robert Gray of Shelf Awareness), a 2012 Book Club Choice by the American Library Association, and a favorite reads feature on the Rosie O'Donnell show. Susan blogs at LitPark.com and is very close to finishing her second novel. Her husband is a costume designer, filmmaker, and chair of a university drama department. They live in NY with their two boys.
What do you read when you despair at the state of either your work or modern literature–any "go to" texts?
I have some go-to books that I read whenever I want to get my heart beating and remember how much words matter: William Maxwell's They Came Like Swallows, Gabriel Garcia Marquez's Leaf Storm, and anything by James Baldwin. I've read those books again and again. Others greats: Kent Haruf's Plainsong, Tim O'Brien's The Things They Carried, Shirley Jackson's We Have Always Lived in the Castle, and Charles Dickens' Great Expectations. There's nothing like a perfect book to set things right again.
I also think, when you're stuck, it's helpful to watch award-winning movies to remember the importance of opening scenes (think "Witness," "American Beauty," and "The Wizard of Oz") and the shape of a well-told story (think "The Sixth Sense," "Mystic River," and "One Flew Over the Cuckoo's Nest").
If you could give just one piece of advice to emerging authors about editing that has served you well, what would it be?
Be willing to re-think absolutely everything about what you've written—where you enter the story, what you focus on, which character will tell the story, all of it.
Forget the saying about writers needing to keep their butts in the chair. Get up. Go for long walks, and do your "writing" by telling your story into the voice memo on your phone.
Read constantly and read books that are better than anything you could ever write. Read out of your genre. Read short and long fiction, non-fiction, poetry, essays to learn more and more ways to tell a story. Then go back to your work with a better tuned ear and a bigger box of tools.
Whenever you are writing the thoughts inside someone's head, try to find a way to express those thoughts in the physical world and through action.
Think of your work-in-progress as a symphony. Make sure you have changes in mood and tempo and volume.
And I hold very dearly something Neil Gaiman said about editing, which I'll paraphrase: If someone tells you there is a problem in your manuscript, they're probably right. If they tell you a specific way to fix it, they're probably wrong.
You only asked for one piece of advice, didn't you?
How has your perception of what you "do" with your work changed as you have continued to write?
I'm no longer afraid to call myself a writer. I'm no longer afraid when I discover that my writing process is different than someone else's. I no longer worry about how long it takes me to write a story. I no longer assume my first draft is anything like how my final draft will look. I no longer show my work or seek feedback or share anything about the plot or themes to anyone as I go. I wait until I think I'm done, knowing that when I do seek feedback, I'll probably discover I'm still more toward the beginning than the end of the process.
What do you feel is the purpose of poetry/literature?
To remind us that we are alive, to remind us of what's inside and around us, to remind us of our many senses and the gamut of emotions we can feel, to remind us of our connectedness and the power of our voices.
As a human being, what is the best advice you have to offer?
Be in the moment. Enjoy a hundred things every day—the shape of the clouds, the sound of a child laughing, the feel of an animal's fur against your lips, the way the house shakes when the train goes by, the temperature of the shower, the person with the crooked walk that you made smile, the memory of a long lost friend. Feed a squirrel, dance in your room, walk until your clothes are sweaty, look out and up and think, "Fuck yes, this is a good day!"
What do you feel are your favorite themes and why? 
I think my very private process that no one is likely to see on the page is that I take a fragmented sense of memory and try to make it whole. Another thing that probably doesn't show on the page is that I like to work with themes and characters I feel conflicted about and explore them until I can discover what I truly believe.
On the page, I think I have a tendency to tunnel through darkness in search of light, love, or hope.
What's recently released or in the pipeline for your readers? Give us a sneak peek.
I'm really thrilled with the new novel I'm working on right now. Parts of it just opened up in a big, big way and I can't write fast enough to keep up.
I spent a month in the town that inspired the setting of this new novel, and I have some photos of it posted here.
Writers on Craft is hosted by Heather Fowler, who cares about writing.  She does a lot of it.  Visit her profile on Fictionaut or see here for more: www.heatherfowlerwrites.com.