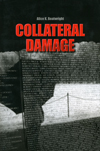 Michelle Elvy, Linda Simoni-Wastila, and Christopher Allen are hosting FLASH MOB 2013 in celebration of International Flash Fiction Day. Deadline for submissions is June 10.
Alice Boatwright's Collateral Damage won the Bronze Medal for Literary Fiction from the Independent Publisher Book Awards.
Gloria Garfunkel's story "Great Expectations" is forthcoming in Camroc Press Review.
Tantra Bensko has stories forthcoming in Birkensnake, Women Writing the Weird, Imperial Youth Review, Camroc Review, Mad Hatters Review Annual, Literary Orphans, the anthologies Not Somewhere Else But Here (Sundress), and Looking Back, and an e-book from Sein und Werden, Guest Edited by Rhys Hughes. Her story was recently published in Red Fez. She also has a novel forthcoming from Dog Horn, named Unside: a book of closed time-like curves, and a collection from Make-Do, called Yard Man.
LucidPlay Press, run by Tantra, has released a chapbook anthology called Word Swell, and includes work by John Olson, Bill Yarrow, Gloria Garfunkle, Epiphany Ferrell, Rhys Hughes, Owen Kaelin, Sara Fitzpatrick Comito, and Michael Seidel. It is available for free here, and contains art by Joanna Husbands, Amir Catic, and Doming.
Brian Michael has work forthcoming in NFTU (Notes From The Underground) and Misjudge Your Limits.
Bill Yarrow has recent poems in Treehouse, Contrary,After Hours, The Jewish Journal, Reprint Magazine, and OF ZOOS. Two chapbooks (Twenty from MadHat Press and Incompetent Translations and Inept Haiku from Červená Barva Press) are forthcoming in 2013.
Derek Osborne reviews Marcus Speh's Thank You For Your Sperm at Gertrude's Flat.
Marcelle Heath is a contributing editor for Fictionaut and Editor-at-Large for Luna Park Review. Her stories have appeared in PANK, Wigleaf, Snake Nation Review, Matchbook, Necessary Fiction, and other journals. She works as a freelance editor in Portland, Oregon. She blogs here. This will be Marcelle's last column for the Fictionaut blog.