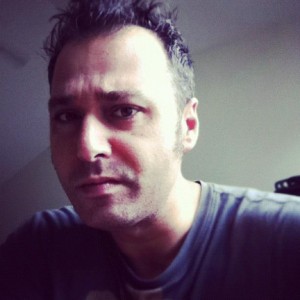 Alex M. Pruteanu emigrated to the United States from Romania in 1980. He has worked as a journalist, a television news director, freelance writer, and editor. He is the author of novella Short Lean Cuts and Gears: A Collection (Independent Talent Group, Inc.). His writing has appeared in NY Arts Magazine, Guernica, PANK, Connotation Press, FRIGG, and many others. Alex lives with his family near Raleigh, North Carolina.
What is your feeling about having mentors as a writer? Talk about the
 mentor relationship if you will, its importance to a writer.
I've never been interested in having a "mentor" as we understand that word to be. I'm more interested in a human relationship with someone who is a profound, yet funny human being. If that person happens to be a writer, so be it. I never came up through the "academic route" (MFA) in writing, nor was I ever interested in pursuing that avenue. Some of the best writers working right now are blue-collar types with shitty jobs and very dim futures. They are machinists, hotel maids, food servers, slaughterhouse workers, crane operators, truck drivers. They are writers whose brilliant work will probably never be seen by anyone. Except maybe, if I'm lucky, by me…in a small, nondescript bar, over a few cocktails and good conversation.
What do you do when you feel stuck or uninspired and does it work to trick the brain into working?
I've never felt stuck or un-inspired. I've actually written a nonfiction piece on this subject for NY Arts Magazine; a piece which was published in December, 2012. I don't believe in writer's block or The Muse or any of that nonsense. Just because I'm not physically writing, doesn't mean I'm not writing. I take my ideas with me into the shower, into my office, to the grocery store, to bed, into the toilet. Once I finish a project, I move on to the next one, whether it's actual physical writing or beginning to coagulate ideas into a mass of sort. I am constantly inspired by art—painting, sculpture, film. I am constantly inspired by music—modal jazz, specifically. I am never stuck, but I am always robbed of proper chunks of writing time by a full-time job, a family, a busy life.
Are there favorite writing exercises or prompts which you use 
regularly & will share?
For me there's no magic to this, just simply work. My "prompts" are other forms of art, as I've mentioned above. Also, paying attention to my life—what's happening in it, and paying attention to what people say, what they talk about. Most things people talk about are useless, but even within the banality of a conversation about the latest episode of Breaking Bad or Honey Boo-Boo, there is a weird or savage story waiting to be dug up. People are generally bland, but within that layer of boring triviality lies the clay that I can work with or mold into something good, something fictitious.
What's the best writer's advice you ever got?
I think writing advice is silly, no matter who offers it and how famous he or she is. The process, the work is different for everyone, and attempting to pin down any sort of rules ends up being a cliché. My process is likely very different than most people who call themselves writers, in that there isn't one. I write wherever, whenever, on whatever, and under any circumstances. I also don't write. Not writing is part of my writing process. There are times when I simply can't because I'm at work, or I'm out with my kid at a park, and I've forgotten my notebook. What I can say about the process is something my father—a writer himself, published in Romania only—once said. It wasn't advice, it was just…a sort of cogitation, I suppose. He said: "when you're writing a novel, you take that animal with you wherever you go." He didn't mean that you think about the project always, he meant it becomes you; it's a living, breathing thing within you. It's organic. When you shit, part of it is excreted; when you cook and you accidentally slice your finger, it bleeds out of you; when you sweat, it oozes along with your salty perspiration. I suppose that concept is closely tied with work, in general. You have to work. You have to work hard. But personally, I think writing advice is silly. That said, I hope famous writers make a lot of money off those advice books they sell; they should. I'm always happy for writers making a living writing. The only thing I go by is: work. Work always and work hard.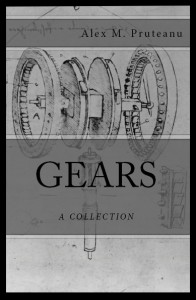 Please tell us all about your new book, and where we can buy it, and everything about it.
My newest book is called Gears, published by Independent Talent Group, Inc. Gears was just released on January 28th; it is a massive collection of short writing—70 stories/400 pages of fiction. I'm extremely proud of this book; it includes 59 pieces published in various literary journals and 11 brand new stories. This collection is the culmination of nearly 8 years of writing, and 2 years of publishing in various magazines. People can buy Gears from Amazon right now, and shortly it will be available at Powell's, as well. Independent Talent Group gave me complete artistic control over this project; they trusted that I would deliver to them a first-rate work, and I honestly think I achieved that. Gears will be at the book fair at AWP this year in Boston; people can find it on the Manarchy Magazine table, sharing space with a couple of other titles by fellow writers. I'll also be spinning around AWP and its various off-site events, bars, gatherings, and I'll have a couple of copies on me, if anyone's interested in buying it.
What are you working on now?
I am about halfway through writing a novel called The Sun Eaters. It's the story of two brothers, ages 12 and 9, subsisting in a village in an Eastern European country. It's the story of their struggles, their attempt at surviving hunger, winter, and political ideology just post-WWII.
The Fictionaut Five is our ongoing series of interviews with Fictionaut authors. Every Wednesday, Meg Pokrass asks a writer five (or more) questions. Meg is the editor-at-large for BLIP Magazine, and her stories and poems have been published widely. Her first full collection of flash fiction, "Damn Sure Right" is now out from Press 53. She blogs at http://megpokrass.com.