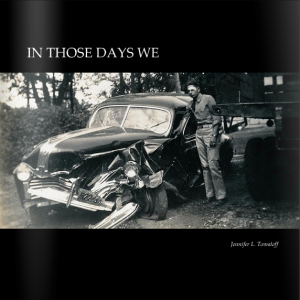 Gary V. Powell's "Maalox" is forthcoming at Newport Review, "Chosen" at Pitchapel Review, "Dancers, 1969" at Prime Number, and his first novel Lucky Bastard is forthcoming at Main Street Rag Press.
Gessy Alvarez's "Platanos" is published by Black Heart Magazine.
Matt Denison has work forthcoming in Pembroke Magazine, Roanoke Review, Sierra Nevada Review, The Alarmist (UK), Spillway, Curbside Splendor, Midwestern Gothic, Liebamour (UK), Gargoyle, and Other Poetry (UK).
Sheldon Lee Compton's The Same Terrible Storm was recently nominated for the Thomas and Lillie D. Chaffin Award, and his short story "Lost Ball in High Weeds," was a judge's selection winner this year for the Still Fiction Award. The story is a chapter from his upcoming novel, Brown Bottle.
Marcus Speh's "Friends" and "Rokovoko" are in In Those Days We, edited by Jennifer Tomaloff and including J. Bradley, Molly Gaudry, Len Kuntz, Parker Tettelton, Meg Tuite, Robert Vaughan, and other Fictionaut members.
Along with a collection of eleven newly released songs, Michael Dickes' "Song Dust" will be included in Blue Fifth Review: Blue Five Notebook Series; Thumbnail Magazine will feature "Like Dancing Alone"; "She Saw" will be in Thrice Fiction; the music blog Riff Raff included "Ghost Notes" early this month, and Michael was interviewed in the upcoming issue of Rocks Magazine in Germany. More info at www.michaeldickes.weebly.com.
"Dust Clouds," a short story by Jane Hammons was published in All Due Respect, and her essay "Which Way to the Vomitorium" was published in the Real anthology at Pure Slush and is also forthcoming in April from Outpost 19's anthology California Prose Directory: New Writing from the Golden State.
James Claffey's "scrap-iron man" and "kidney trouble" is at Fwriction : Review; "we sunk my mother's mother" at Necessary Fiction (guest edited by Ben Tanzer); "fragments of the bird," is at The View from Here; "the ribboned corpse cold" at Right Hand Pointing; and "turned to tiny vessels" at Flash Frontier.
Andrew Stancek's "Libor's Looking" appears in the new issue of LA Review.
Marcelle Heath is a contributing editor for Fictionaut and Editor-at-Large for Luna Park Review. Her stories have appeared in PANK, Wigleaf, Snake Nation Review, Matchbook, Necessary Fiction, and other journals. She works as a freelance editor in Portland, Oregon. She blogs here.