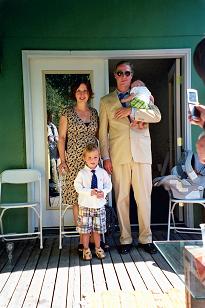 Michael Fitzgerald is the co-founder of Submittable and the author of Radiant Days. He lives in Missoula, Montana.
What is your feeling about having mentors as a writer? Talk about the mentor relationship if you will, its importance to a writer.
It's so hard and takes so long for most of us. A few gentle pats on the back along the way can make all the difference. I had one amazing professor as an undergrad (Randi Davenport) but am suspect of the teacher/student relationship in general. I feel most of the things I've learned came from reading, writing, and the occasional stick in the eye. Maybe there's a better way?
(Also, now as a middle/mentor-aged person myself, I realize we're mostly talking out our ass. :))
What do you do when you feel stuck or uninspired to get yourself? Do you have a daily routine?
I write in the mornings before my day-job. I'm usually uninspired or exhausted. The trick seems to be just being habitual or addicted to it.
Also, I relish the times when it's super miserable, when I haven't slept or am hungover. If you can sit down and write when you're completely uninspired, completely miserable, hating everything you've ever written or thought, and just stay in the chair until something happens, then you know you're going to be OK.
What kind of prompts do you use, if you do?
I subscribe to and read our local newspaper, The Missoulian. I know papers are going away. But they're ripe with material.
Also make sure you love the act of writing. No one is ever going to ask you to write a novel. And, to be completely honest, no one really cares once you do. So you need to love the act of writing. It should be (and for me is) an act that enriches your life.
What's the best writer's advice you ever got?
Get over yourself.
What are you working on now?
I'm presently multi-tasking: my marriage, a book called StartDown, and our company Submittable (formerly Submishmash).
The Fictionaut Five is our ongoing series of interviews with Fictionaut authors. Every Wednesday, Meg Pokrass asks a writer five (or more) questions. Meg is the editor-at-large for BLIP Magazine, and her stories and poems have been published widely. Her first full collection of flash fiction, "Damn Sure Right" is now out from Press 53. She blogs at http://megpokrass.com.