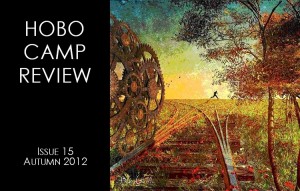 Chris Galvin's "Groundnut Soup" is published in issue 13 of the Maple Tree Literary Supplement. "Sympathy for the Devil," first published in The 24 Project, appears in Tuck Magazine. "Life with Mệ" is forthcoming in the 2012 Writers Abroad anthology, Foreign Encounters. Chris also has work forthcoming in PRISM International.
Andrew Stancek's story "Libor's Looking" appears in the new issue of LA Review.
James Claffey's "Turned to Tiny Vessels" is at Flash Frontier, "Birdcage" at Necessary Fiction; "Jakes' Games" and "Harvest Moon" is forthcoming in Trachodon's anthology, Bite; and "Spreading from the False Fly," appears in Pure Slush's Real.
Linda Simoni-Wastila's "The Abridged Biography of an American Sniper" is at Smokelong.
Strannikov's "All the Pretty White Fonts!" is one of two prose "Best of the Net 2012" nominees from metazen.
Marcus Speh's "Family" is at Hobo Camp Review, and "The Butterfly Collector" at Flash Frontier.
Scott Tienken's Handbook to Town Crying is available at Amazon.
Marcelle Heath is a contributing editor for Fictionaut and Editor-at-Large for Luna Park Review. Her stories have appeared in PANK, Wigleaf, Snake Nation Review, Matchbook, Necessary Fiction, and other journals. She works as a freelance editor in Portland, Oregon. She blogs here.