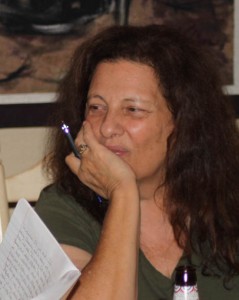 Formerly of Montreal, Quebec, Gita M. Smith is now housed in Montgomery, AL, where she helps students at a university become better writers. At least, that's the plan. She is a journalist and magazine editor who is new to fiction. Her work appears on MiCrow, MudJob, LitFire, MudSpots, The Sphere, Scissors and Spackle, 6S and T-10. She blogs at Ohfinejustfine.blogspot.com.
Q (Meg Pokrass): Gita, you have been with us for a long while at Fictionaut. It's been great getting to know you and your work here. What originally brought you to Fictionaut?
A highly sociable writer named Michael Solender invited me to join.  Michael is good at bringing people together. Of course, later on he exacts his price, which means contributing stories to MiCrow and sending him latkes at Hanukkah.  But I must say that answering these questions feels a little like we're on 'Inside The Actor's Studio' except you're  much, much better looking than James Lipton, and I'm nowhere as wealthy as Meryl Streep.
What do you find to be of value (if you do)  in the online  writers world you have encountered here at F-naut and elsewhere?
The really helpful and honest criticism — like the kind that gives you the courage to take a story apart at the seams and re-stitch it –-  comes from a few people who will comment back and forth with you at first on site and later maybe via email or even telephone.
My favorite example of the good that has come out of the online writers' world is this: A group of people over at 6 Sentences  started meeting annually (the first gathering was in New Orleans in 2010), and the events – open to anyone who wishes to attend – go on for about 4 or 5 days.  We've had writers from Britain, Mexico and all over the USA come to these meet-ups, none of whom had met before except as pixels on the screen. The amount of trust involved in such an undertaking is huge, really.
But we have brought our short stories, poems, novels-in-progress, and flash, and we workshopped with real generosity. It doesn't hurt that we tended to bring beer and wine and take turns cooking meals for each other. And when these gatherings ended, every year so far we have made a book out of the writing and photographs and art that resulted from the gathering.
What do you value most in writing, yours and others'?
In no particular order, neither alphabetical nor importance, nor astrological nor caloric, I value clarity; breathtaking use of the English language such that I am immediately delighted and also envious; novelty in the sense that my Inner Critic (a bitch in a green eye-shade) says "Oooh. This is fresh!" and shuts up. An example of a book that gave me a real rush was The Shipping News by E. Annie Proulx.  An example of voicing that opened my eyes to possibilities was Barbara Kingsolver's Poisonwood Bible. She told that story using five different narrators and yet – YET – it was seamless.  Recently, I experienced Red Grass River by James Carlos Blake as one of those exciting, bracing novels you could compare to mango chutney – a hot and sweet-sour combination that engages all your senses.
Back to clarity for a second: I come out of the nonfiction discipline —  newspaper writing — and one gets to really value clarity in that setting. I was in the middle of piecing together a difficult, multi-layered and long article for Atlanta Magazine. I didn't know how to make so many facts and players clear to the readers. The editor on that piece, Rebecca Burns, looked at my first draft and said, "Rewrite it as a narrative." Sure enough, it unfolded its contorted self and read like a mystery novel. In the process the story went from murky to clear.
Please tell us about your experience transitioning from reporting to fiction-writing? What have you had to re-learn and what skills from your previous life have been the most useful?'
This is really a trick three-part question masquerading as one. Very clever of you, Meg Pokrass, if that is your real name.  Okay, last part first:  A helpful skill from my previous life would be careful research. The Fictionaut story, "Falling Man," a bit of flash about the building of the Golden Gate Bridge, contains facts such as 600,000 rivets per tower and the name of the actual foreman, Smiling Joe Strauss.  Or, if I am writing about the landscape in eastern Kansas, I'll research the names of specific grasses because someone in KS might read the piece and think, "Wait a minute, we don't have little blue stem around here," and I'm busted. I have a huge fear of being busted.
Part two of your question – I had to re-learn letting loose, letting go. Nonfiction requires restraint – unless you want to end up in the headlines like Jayson Blair.
As to making the transition to fiction:  I'm still making it, every day on every page.  I have monster Imposter Syndrome. Like, who the fuck am I to be here answering Fictionaut Five questions?
Of the pieces I've put on Fictionaut, Gossip is possibly most illustrative of fiction that reads like truth. To me, that means the transition is working.
What books and music do you love the most, and return to over time?
When I need to re-wrinkle my brain, I read poetry.  I go to my bookshelves and read whatever poetry book my hand falls on. I never tire of Yeats. I love and return, time and again, to Pierre DeLattre's exquisite Tales of the Dalai Lama.   As to music, I'm old school R&B all the way, but you can't beat Rachmaninoff's piano concerto number 3 or Afro-Cuban jazz. Oh, and please make sure they play "A Whiter Shade of Pale" at my funeral. It contains references to Chaucer and sex.
What is next for you?  
In terms of my life, I recently quit smoking, so my future is uncertain because I may yet commit homicide and end up in Alabama's Julia Tutwiler Prison for women.
If not, I'll probably win the POWERBALL lottery within the next year, and I will set up a huge writer's commune/retreat/retirement home.  It will have everything we need to be able to continue writing as we grow old, including massage therapists on the property. When you or Steve Gowin or James Claffey or Gessy Alvarez go out on book tours, I'll take in your mail and water your plants.
The Fictionaut Five is our ongoing series of interviews with Fictionaut authors. Every Wednesday, Meg Pokrass asks a writer five (or more) questions. Meg is the editor-at-large for BLIP Magazine, and her stories and poems have been published widely. Her first full collection of flash fiction, "Damn Sure Right" is now out from Press 53. She blogs at http://megpokrass.com.