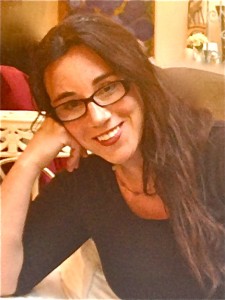 Ilie Ruby is the author of The Salt God's Daughter (September 4th, 2012) which Kirkus Reviews just called "a bewitching tale of lives entangled" and the critically-acclaimed novel, The Language of Trees (2010). She is the winner of the Edwin L. Moses Award for Fiction, chosen by T.C. Boyle; a Kerr Foundation Writing Scholarship, and the Phi Kappa Phi Award for Creative Achievement in Fiction. Ruby is also a recipient of the Wesleyan Writer's Conference Davidoff Scholarship and the Barbara Kemp Award for Outstanding Teaching and Scholarship. Ruby is a contributor to the New York Times Motherlode and CNN. She is also a painter, mother to three, and currently teaches writing in Boston.
What is your feeling about having mentors as a writer? 
I have always had mentors; I think they are incredibly helpful at all points of one's career. As with anything, when venturing into uncharted territory it is invaluable to have someone to ask all those questions that you'd otherwise end up sitting with for days, months, years. And it is a good and lovely thing when mentors say, for example "Work around that in an interview," or when they say, "Yes, this is the way to go," or even better yet, "Let me introduce you to … say, Peg Mokrass, for example. Now she's someone every aspiring writer needs to meet, though I hear her client list is full up." When I was in a writing program twenty years ago (yes, I'm old) the director of my program was my mentor and he was just fabulous to me. Then, I found mentors in two professors. Now, having published two books, I have mentors who are novelists—well, some of them found me. Being a writer today is like venturing into the Wild West—we all have to look out for each other and help and support each other. I also mentor a couple people, too. So it goes and comes around, like all things.
What do you do when you feel stuck or uninspired and does it work to trick the brain into working?
Oh, gosh, yes. I have a long and intense relationships with the page. Tricking the brain is what it is all about. Yes, yes and yes to this question. I've been writing for most of my life and have a long, complicated relationship with art, too—my mom is an artist and raised my sister and I in a household where art and writing were the focus of our activities—I developed a real reverence for the creative process and I appreciate creativity on a very deep level.  I don't think there was ever a time when I wasn't writing or trying to write. Painting is a helpful trick because it uses quite a different part of the brain and gets the body moving; it frees up all those little writing molecules in your brain that have your designated stories in them. I also recommend purchasing a lucky hat (mine is a cowboy hat but it may as well be a combat helmet) because it tricks you into thinking you're putting on your thinking cap (recall those days of yore). Another thing I do is to read poetry when I'm stuck—this is my absolute ammo. Jack Gilbert, Louise Gluck, poets whose last name start with G just have some magic for me. I'm not a big coffee shop writer but if I change my location in my house, say from my office to my porch, it opens up a whole new vantage point. Usually during a day of writing you can find me walking around my house with my computer. My last trick is music. Music always helps. When I was having trouble with one section of my new book, somebody made me a "mixed tape", which was a compilation of songs that were thematically tied to the book — I played it nonstop in my office for three days. Specifically, it was the music of Tori Amos that completely unlocked this story and I finished the novel.
Are there favorite writing exercises or prompts which you use regularly & will share?
I'm not using writing exercises right now, but I have in the past and I'm sure I will in the future. Right now, the book title is the prompt, and then chapter titles too though I usually don't end up publishing the chapter titles. The title of the book comes to me long before I sit down towrite the book. For The Salt God's Daughter, the title came to me one night when I was working on my previous book, and I just stopped and wrote it down and pinned it to my bulletin board. I stared at it for months and started sort of downloading the story in my mind. I did my research,  letting it all percolate. When I sat down to write the book months later, I pretty much knew how the story was going to work and what was going to happen. It's a strange process for me but I like having time to think about ideas without writing them down at the beginning, which makes me feel a little bit locked in.
Suggestions for making characters live?  Do you know who they are before you write or do you find out who they are in the writing?
I discover my characters wholly through the process of writing. I used to try and sketch them out first, make lists of their qualities, etc. but that didn't work so well for me. I need to fling them into a situation to see what they will do—I really like what happens during the organic process—you have the characters interact with each other and they begin to show who they are. So I suppose it's a little like putting people together when you have a dinner party. You seat them all at one table and things start to happen. Conversations, reactions, love at first sight… Well, love has happened. I fell in love with my husband at a dinner party.
What's the best writer's advice you ever got?
THE BEST REVENGE IS REVISION. Pin this to your bulletin board on your wall. This was told to me 20 years ago after a professor in a writing class tore my short story to pieces and I left a little teary. My friend David took me out for a drink and I'll never forget him saying that to me. I made a few tiny revisions and a few days later I submitted the story to a contest at USC. None other than T. C. Boyle chose the story for a huge literary award. That, I suppose, was a sweet victory.
No joke! That is a wonderful story! Please talk a bit about the creating of The Salt God's Daughter, your new book.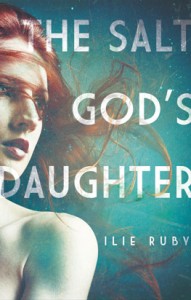 Oh, this story had me by the throat from the get-go. It was inspired by my research into cyber-bullying — I came across the stories of young girls who'd been bullied with tragic outcomes. I wrote their names out on a piece of paper late in my office one night and I knew I had to tell the story.  I knew this was the next book I was meant to write. But I'm superstitious that way. The story is quite personal in some ways, as all stories are in one way or another. I had to really get clear with myself about how deep I wanted to go. Did I really want to talk about what happened to girls growing up in the 70s and 80s? About the plight of adolescent girls? Did I want to delve into the broken bonds of motherhood, to the condition of being motherless, all those things? I had to find out how far I would go. But at this point in my life, I sort of have to go deep if a book is going to hold my interest for 365 pages. My formal blurb: The story is about the American loss of innocence as told by Ruthie and Naida, a mother and daughter who experience violence, family secrets, and towering acts of love. They live within an oceanic wilderness where identity is as changeable as the ocean. They face gritty rites of passage (love, sex, virginity, motherhood) and find in themselves an incredible resiliency. What I really wanted to show was the divinity of those people we don't often notice—the marginalized, the homeless, the grieving, the isolated—and illuminate those periods of time when we ourselves enter darkness—when we don't see the light, and the transcendent beauty as much as we should. I wanted to show that light, to shine it even in the darkest of places. I wanted to capture what is not only difficult about the female experience, but also lovely about it. All this required that I delve in to the past and really work the material to find those images, experiences and emotions that would ring true for the reader, and that I was okay discussing.
How do you feel about the way writers relate to each other?
Other writers—I have met wonderful people who I just love cheering on. This is a very competitive business and I think you have to choose your friends wisely but I've developed such a beautiful group of solid supportive authors, some that are more experienced than I am, and we are really there for each other. You can't let the negatives taint the water for you, and now, I can help other people deal with some of these things because of my own experiences. I really love this process and I don't ever want to lose my passion for creating beauty. There are so many books and too little time.
I agree wholeheartedly with you here. Ilie, What is next for you?
I have just started a new book that is set in the jungles of Guatemala. I'm looking forward to some travel research! And maybe a little vacation while I'm there. Of course, I'll bring my laptop. Thank you Meg Pokrass, or Peg Mokrass—I am wild about you both and I think you are hilarious and so so talented. You brighten my day! Thank you for having me on Fictionaut!
The Fictionaut Five is our ongoing series of interviews with Fictionaut authors. Every Wednesday, Meg Pokrass asks a writer five (or more) questions. Meg is the editor-at-large for BLIP Magazine, and her stories and poems have been published widely. Her first full collection of flash fiction, "Damn Sure Right" is now out from Press 53. She blogs at http://megpokrass.com.