Kate Hill Cantrill's writing has appeared in literary publications including Story Quarterly, Salt Hill, The Believer, Blackbird, QuickFiction, Mississippi Review, Smokelong Quarterly, Swink, and others. She has been awarded fellowships from the Corporation of Yaddo, the Jentel Artists Residency, the Virginia Center for Creative Arts, and the James A. Michener Fund. She has taught fiction writing at The University of the Arts, The University of Texas, and the Sackett Street Workshop. Her short story collection, Walk Back From Monkey School is available for pre-order from Press 53. She lives in Brooklyn where she curates the Rabbit Tales Reading and Performance Series and is completing a novel.
Q (Meg Pokrass): What is your feeling about having mentors as a writer? Talk about the mentor relationship if you will, its importance to a writer…
Kate Hill Cantrill: For me I think that my mentors have always ended up being replacement father figures for when my parents split and I only got to be with my father on weekends. My father has always and forever been my major word and humor-based mentor. He actually made it a rule in the house that my sisters and I watch It's a Mad Mad Mad Mad World every year since I was an itty thing. He also had strict requirements about me being knowledgeable about M*A*S*H and Monty Python skits. He'd say, "Katie, a wink's as good as a what?" "It's as good as a nudge to a blind bat, Dad."
I had a professor in college who was super handsome and who had on the shelf in his office so many books that I had already semi-freakishly read when I was a teen (because reading was easier than dealing with people for me at the time), and he noticed that I knew all of them and he liked my essays and so he suggested that I become a writing major. I liked the cut of his jib and he was one of the first teachers to NOT give me a C, so I signed up the next day. Thanks, Tony!
I guess I'm saying that mentorship just shazams into our lives, but I wouldn't want it on any formal basis. You find them: they find you.
What do you do when you feel stuck or uninspired and does it work to trick the brain into working?
I simply don't write. I go and draw a cartoon or paint something or pet my plants or watch a cat video. Unless I'm given a task, I don't write unless I want/need to absolutely write. I feel like my brain is always working, but I can't control in what creative direction it wants to go in. I have a strong background in visual arts; I just couldn't figure out how to make paint or wood or anything say what it wanted to say, so mostly I write.
Are there favorite writing exercises or prompts that you like and will share?
Depression has worked really well for me. So has some itty kid saying something so hilarious and profound I can't let it go. My favorite sharable prompt though, has been to write a story that takes place in 30 minutes. And as a certain professor once suggested to me (and about a gazillion others): If you get stuck, make a man come through the door with a gun.
I prefer to have a jarring phone call happen or a weird sound in the backyard, but I know what he meant and it really works.
Do you know who your characters are before you write? Or do you find out who they are in the writing?
Most likely the latter. In fact, yes, totally the latter. I generally don't know what they are going to say until they say it, so it's often a surprise to me. I have gotten mad at my characters and been like "Oh Sh*t! You just totally threw off my trajectory of this story. But whatever, it is your story."
What's the best writer's advice you ever got?
It was from my mother, who is a brilliant sculptor (among other visual arty things)—I can't say it verbatim, but it was something like: Don't let the competitiveness of the art world drag you under. Create to create. Create to give something to the world or to you or don't do it at all.
Please talk about the writing of your story collection Walk Back From Monkey School.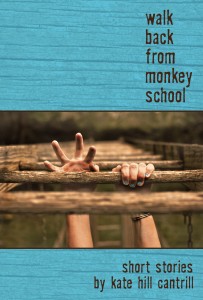 Thanks for asking this! The working title (all my working titles are this) was "Hello Friends and Neighbors." My editor at the amazingly story-enthused Press 53 chose the current title based on one of the teeniest stories in the book, and I can't be happier! I didn't write this as a collection necessarily, although once I had the chunk together, and the quarter chuck as a chapbook got three first runners' up awards, I decided to take a second look at my stories as a collection. They are very different in their style at times, but oh so similar in what they say. I've written several novels, but they were intended—short stories just come and smack me in the face and I am forced to write them. Long or short or mid-length, I can't stop them when they come. They wake me at night.
What question would you like to be asked next?
Question: Do you ever get tired of writers thinking they are some special sort of being, even though you consider yourself to be one—not a special sort of being, but a writer?
Answer: Holy hell yes. The politics around writing and art in general makes me feel ashamed to be a part of it some of the time. The whole 'discussment' between "men" and "women" writers and the whole "where did you study?" and the whole utter snobbery at certain NY readings makes me want to fly fly away and hang with the birds and jam on my harmonica.
What is next for you?
I have three novels I would like to get published. I would like to adopt a dog. I might like to teach writing again, but only to the lost kids of New York—not undergrads or continuing ed or anything. I love teaching 6 graders and might look into that. I also want to pursue writing plays more. I'm getting really into that. Why be stingy with words? Let them flow through other voices and see what happens. This is exciting to me these days.
The Fictionaut Five is our ongoing series of interviews with Fictionaut authors. Every Wednesday, Meg Pokrass asks a writer five (or more) questions. Meg is the editor-at-large for BLIP Magazine, and her stories and poems have been published widely. Her first full collection of flash fiction, "Damn Sure Right" is now out from Press 53. She blogs at http://megpokrass.com.