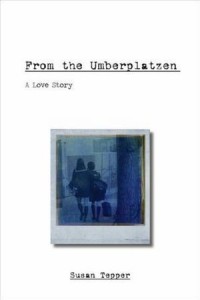 On my flight from MSP to LGA on Friday, headed to New York for the Fictionaut gathering, I considered the book in my lap that I had read once for the purpose of reviewing and twice for pleasure: Susan Tepper's From the Umberplatzen: A Love Story.  Suspended in the air, I realized something about it that I had not realized on land.  Then, as if to reward my diligence, the pilot announced to the passengers that our flight may reroute to Albany or Syracuse to refuel.  We had been flying for an hour in a holding pattern.  Five minutes later, the pilot said we had clearance to land at LGA and would fly through the storm.  I turned to the man next to me and began to chat, as if it might be the last time I chatted with anyone.  The man next to me was a technical writing consultant.  He and his wife were traveling from Idaho for her first trip to New York.  His background was in philosophy, and he was backburnering a novel, a potboiler, that could bring in a shipload of cash.  "What are you reading?" he asked, and I said, "A novel."  He said, "It looks too slim to be a novel."  So I said, "It's a novel composed of very short stories.  Have you heard of flash fiction?  It is a novel composed of flash fictions."  The man and his wife, intelligent readers, had not heard of flash fiction, so as our plane flew into the alps of clouds, I explained what flash fiction is.
It was on the plane that I realized that the stories in From the Umberplatzen fly.  They do not walk, carry, or drive.  They conspire, in the air, like postcards as they float across the Atlantic on official business, transported by trusted officials, for the purpose of continuing love.  They hover over the sea that separates the lovers, Kitty Kat in America and M in Germany, who have met in another ethereal place, the trees she calls the Umberplatzen.
The story is told in 48 stories.  The telling is not loud but internal and sweet, with the tones of lovers who tease each other boldly.  The dialogue, some of the best I have read of its kind, is indirect.
Here is an excerpt from "Nails":
His bookshelf was leaning.  Too many heavy manuals on the one side.  M was kneeling pulling out books.  Soon the floor was covered.  Guess I'll finish it tomorrow he said.  I need to buy nails.  You can't leave it this way.  Why not.  Well how can we sleep here.   How can I get to the bathroom in the dark.  I'll trip and be killed.  M had started tickling me.  I screamed for him to stop.  So that's all you're worried about Kitty Kat.
The words that pass between them are not demarcated by quotation marks or split into separate paragraphs but go as thoughts do between the hemispheres of one mind in two bodies.
Ann Bogle has been a member at Fictionaut since July 2009.  She is fiction reader at Drunken Boat, creative nonfiction and book reviews editor at Mad Hatters' Review, and served formerly as fiction editor at Women Writers: a Zine. She earned her M.F.A. in fiction at the University of Houston in 1994.  Her stories have appeared in journals including Blip, Wigleaf, Metazen, Istanbul Literary Review, The Quarterly, Gulf Coast, Fiction International, Big Bridge, Thrice Fiction, fwriction : review, THIS Literary Magazine, and others.  Her short collections of stories, Solzhenitsyn Jukebox and Country Without a Name, were published by Argotist Ebooks in 2010 and 2011. Books at Fictionaut features reviews of books published by Fictionaut contributors.