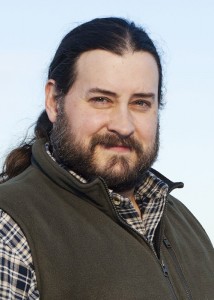 Steve Himmer is the author of a novel, The Bee-Loud Glade, and an ebook novella, The Second Most Dangerous Job In America, both published by Atticus Books. He also edits the webjournal Necessary Fiction. His website is http://www.stevehimmer.com.
I've enjoyed spending a week in the flow of Fictionaut, spotting trends and tendencies I've never quite noticed while popping in and out of the site more sporadically. It's interesting to see how conversational this space is — more about collaboration than competition. There's a distinct culture to this community, reflected in the emergence of "local" forms that have emerged over time, of which memory-driven flash fiction interlaced with photographs seems to be the most common. My sense is people are using Fictionaut for different reasons, from support to workshopping to sharing stories gone out of print elsewhere to trying things out as writers, and while reading all those stories last week I thought often of oral history projects and Storycorps and related endeavors: snapshots  of how people in a particular moment are making sense of the world through the stories they tell and the details they just can't ignore. It almost feels antithetical to highlight specific stories when it's the whole — the culture of Fictionaut — I found most fascinating, but these three stories captured my attention in particularly powerful ways:
One quality I really respond to in a story is a sense of being mythic and quotidian at the same time. I'm fascinated by the ways in which we tell ourselves stories, how we make our daily lives into myth, just to get through our days. "The Farmer's Wife" does that so well: it's a story aware of itself being told, initially building on the archetype of "the farmer's wife," that woman at the core of so many stories (not to mention national myths). Then all at once, this short passing, paragraph breaks in after two longer, denser, more abstract ones:
I feel ridiculous she says to the busdriver, the pharmacist, her co- worker. They all nod sympathetically. They don't disagree.
The story is specific then, about one woman, one life, and the mythic is brought down to earth. The daily cutting of thumbs is left literal and lofty at once, without explanation because we don't need any: we know already the violence and tension of suspending our lives between the humdrum of a day and the dream we want it to be, and we all have sore thumbs of our own.
"Boy/Girl" by Brian Warfield
There's a back-and-forth playing with time in this story I really enjoyed. Whole lives are encapsulated in these sometimes abstract and sometimes specific details, and although author and reader know the whole shape of these lives up to death, the characters don't. They're trapped, their stories already written, and at first that fatalism might make us ask, "Why bother telling the story if that's where it ends up?" But the telling makes it worthwhile, that tension between an avalanche in the future and a sandwich right now:
They would die later, much later, too late. They would die of natural and unnatural causes, respectively. An avalanche would dump a metric ton of rocks upon the head of one of them, and a car would drive through the side of the other one's car and body, and they would both die, unaware of the other. They were unaware of these fates that waited for them in their futures.

A sandwich waited for Henry in his kitchen to be eaten and a glass of lemonade waited in Mary's kitchen to be drunk.
"Boy/Girl" is a story built of those juxtapositions, between one life and another, between reader and character, between the aspiration of now and the inevitable ending to come. It makes a complex demand of the reader, and offers a rich reward in return, as we ask ourselves what matters and when and why.
It's rare for a story of childhood memory refracted through an adult lens to engage me as much as "A House Made of Stars." I think it works because it isn't mired in childhood, as such stories so often are, without any sense of why we — both the adult narrator and adult reader — should care. It doesn't take the significance of memory for granted, but makes it matter. This story is faithful to the immediacy of memory in its vivid details, but creates a more complex perspective though gazing back from a wiser, older position:
My cousin's bed creaks as we reach her room. The nightlight is on and I see her form lying down, blankets hastily cast over her, and then I see why—the floor vent by the foot of her bed pulled out, lying on its side where her face had been moments before. She had shown me how she did this last time we were here when Daddy's momma died and we came for the funeral, a butter knife looped underneath the side and pulled up until the vent came free. While our parents sat, cried downstairs, we watched them eat bread, lasagna, sometimes talking, sometimes, saying nothing at all.
That passage weaves past and present perspectives together, giving us the rituals and secrets of both adulthood and childhood at once, and the moment extends in so many directions at once without pushing the reader toward any one or another, letting us instead find our own way through the story rather than pushing us forward with forced sentiment.
(In the interest of full disclosure, I have previously published a story by Tawnysha Greene at Necessary Fiction.)
Editor's Eye is a blog series that aims to highlight noteworthy work that might have slipped through the cracks of Fictionaut's automated list of recommendations. Every two weeks, a distinguished visiting editor scours the site for lost treasures and picks outstanding stories.