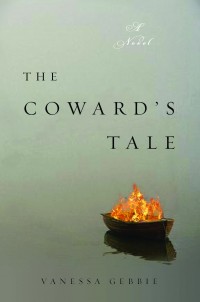 Vanessa Gebbie is a Welsh writer, living in a small village in the south of England. She is a novelist, a prizewinning short story writer, an editor, a creative writing teacher and a fledgling poet. She is rubbish at most other stuff. Her books 'out there' are: her debut novel The Coward's Tale, the short story collections Words from a Glass Bubble and Storm Warning, and Short Circuit – Guide to the Art of the Short Story, for which she is contributing and commissioning editor. She teaches widely. In 2010 she was writer-in-residence at Stockholm University, Sweden. Her website is www.vanessagebbie.com she blogs at www.morenewsfromvg.blogspot.com and she tweets a #StoryGym writing prompt every day on Twitter, where you can follow @vanessagebbie.
I have had a great time, logging in to Fictionaut every evening, always assured of a good read. What talent is here! It has been very hard to select pieces from such a strong field – but in the end I decided I would see which pieces stayed with me, which pieces I would still be thinking about days later. And those would be the pieces of work I'd share with you.
It's all I want, as a writer – readers who give my words a little time, a little care – and hopefully, the words will respond by becoming bigger than their word count, stronger than the paper on which they may be printed, more resonant than the usual echo in the reader's ear and mind.
So, these are the pieces that worked a little magic, for whatever reason. Maybe they made me think, or ponder, laugh, feel sad, amused, intrigued. Whatever – they made me feel something.
Thank you to all the writers. In no particular order –
1. "Genealogy" by Sarah McKinstry-Brown Sometimes, you read a piece of work you know will stick for a long time. This is a beautiful poem, thought-provoking and strong. I used to run weekly writing sessions in a rehab for those with serious addiction issues – and was so impressed with what they wrote, I started up an ezine which ran for six years or so. Tom's Voice is still up there – www.tomsvoicemagazine.com. McKinstry-Browm's poem is one I would have begged to have on the site for the great good it might do. Where my guys at the rehab were so often judged as wanting, without compassion and understanding, 'Genealogy' offers both. Hey – maybe I will still ask her. This is the sort of thing to leave up there for ever.
2. "Great Gatsby Roulette" by Con Chapman is clever, funny – sharp as a razorblade. And it is also wise. In among the fun is a snipe at the ridiculousness of churning out literary criticism, as a group of stoned students write an essay on Gatsby, sentence by posed sentence, for a friend who has to hand it in tomorrow morning. Most of them haven't read it – but as the piece wisely points out:
"Why don't you take a turn?" Bates asked, as he passed the joint to Tom.

"Me? But . . . I only read the first chapter!"

"That's enough man—go ahead," Bates said. "Give it a shot!"
3. "Why I Don't Write Sex Scenes Any More" by Gita M Smith is another of those pieces that both raises a smile and then makes you think. It is so true!  I think this piece should be made compulsory reading for all new writers – it would save them and the world at large a lot of dreadful words.
4. "77 words about nothing" by Anthony Van Hart. Having read this poem, which is deceptively simple – it will not leave me alone. I'm caught by the lucidity of image after image, told in simple language, unforced – the effect is much greater than the wordcount would suggest. I love the opening lines – how could a reader not be drawn in by these?
I'm cracked.

Slowed by the dayswimmers

and gravediggers.

Nightcrawlers and court justices.
5. "Daddy Walked The Pits" by Steven Gowin I just loved this for the characters – the father who becomes absolutely obsessed by tar – and his son, following in his foosteps, not far behind. I enjoyed the energy of the writing, the descriptions, and the originality of it. I read it early on – and it has stayed with me. (I also love the smell of tar… maybe that has something to do with it!)
Also much enjoyed:
Editor's Eye is a blog series that aims to highlight noteworthy work that might have slipped through the cracks of Fictionaut's automated list of recommendations. Every two weeks, a distinguished visiting editor scours the site for lost treasures and picks outstanding stories.