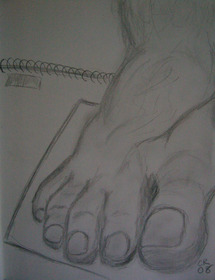 Cooper Renner's Disbelief, a novella in prose and verse about Samuel Taylor Coleridge, has just been published by Ravenna Press, and a selection of his illustrations The Amores [and] The Sorrows of Young Hemdlos will be included later this year in a Ravenna Triple, along with poetry by Alek Lindus and fiction by Brandon Hobson. He edits poetry, interviews and reviews for elimae.com.
Cooper Renner's Editor's Eye choices:
1. Anthony Van Hart, "77 Words About Nothing (Triad)"
Fiction so micro that it works equally well as poetry, and may indeed be intended at poetry. Short paragraphs or short lines? It doesn't matter. Lean vignette-ish looks at despair and hard times.
2. Nathaniel Tower, "WWJRD"
A sly and light touch on an issue that's almost incendiary in America the Belligerent.
3. Larissa Shmailo, "Kalinivka"
Flash fiction tackling one of the toughest subjects: the Holocaust. Quiet and austere.
4. Jeffrey S. Callico, "No Trip"
A micro of the final moments before a crash.
5. James Claffey, "odd-sized legs"
Lonely childhoods are common in fiction (and reality), but black humor redeems this one.
6. Barry Basden, "South Oak Cliff"
The title caught me, since I grew up in a part of Dallas called Oak Cliff. His story is tiny, tight, focused, like the focus of a kid terrified of getting beat up.
Editor's Eye is a new blog series that aims to highlight noteworthy work that might have slipped through the cracks of Fictionaut's automated list of recommendations. Every two weeks, a distinguished visiting editor scours the site for lost treasures and picks outstanding stories.